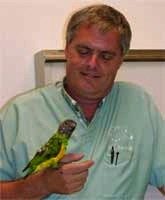 Donald W. Zantop, DVM, Dipl. ABVP-Avian, long time member and Past-President of the Association of Avian Veterinarians, was lost in a diving accident on Thursday, October 13, 2011.
After being nominated by his peers for several years as a finalist for the T.J. Lafeber Avian Practitioner of the Year award , Dr. Zantop wrote a brief letter to the selection committee in 2006. This tongue-in-cheek account provides a vivid description of Dr. Zantop's wonderful sense of humor and his ready smile.
Well, as always, I am flattered and mystified by my nomination for the Lafeber Avian Practitioner of the Year Award. I am especially amazed because I have done everything in my power to remove myself from the service of avian practice unless it pertains to my personal clients and patients. I think you must have me confused with another overworked, tired-but-not-yet-burned-out avian veterinarian.

Public speaking has always made little shivers of fear run up and down my spine. After making repeated attempts over the years to overcome my anxiety, I now refuse to go to bird shows and bird club meetings to give lectures. I refuse to lecture at professional seminars, and my greatest fear is that I will actually win this award and have to put together a coherent presentation before my distinguished colleagues.

My practice keeps me so busy that I no longer write articles for professional publications, and I'm fairly certain that my skills are all sliding down the tubes. Why, just yesterday I was taloned by a bald eagle that was coming out of anesthesia after I had re-bandaged the ungrateful raptor's foot. I don't think that would have happened to a more agile practitioner. At any rate, my long-suffering wife is tired of editing my work due to the relentless deterioration of my spelling and grammar. (However, if you read between the lines, you will see her mark all over this submission.)

Although I keep my dues current, I'm not active in any veterinary organizations at any level. Six years of working on the ABVP's avian certification exam were the final nails in that coffin.

But, I have to tell you, I still love these birds and their crazy owners. They continue to come from a 100-mile radius of my inconveniently-located practice, many bearing gifts such as potholders in the shape of cockatoos and chocolate chip cookies and even expensive bottles of wine (the latter get preferred treatment, of course).

I continue to marvel at the resilience of wildlife and of the people who rescue and rehabilitate them and continue to fight for them.

I continue to take in veterinary students on their senior rotations, hoping that some day there will be enough avian veterinarians to give us old guys a break.

I'll be happy to finish my streak as a runner-up, but if, by chance, the committee shines it favor upon me, I will do my best not to embarrass you, my esteemed friends and colleagues.
Respectfully submitted,

Don Zantop, D.V.M., ABVP, Avian Practice
Our sympathies go out to Dr. Zantop's family. In lieu of flowers, the family requests donations in his memory be sent to the Association of Avian Veterinarians Research Fund.