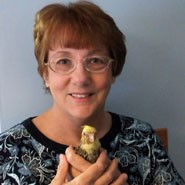 Jeannine Miesle has gained practical avian experience over the years caring for birds she has adopted and rescued. Many of these birds have been extremely ill and in horrific condition, but with the guidance of her avian veterinarian, Dr. Bob Dahlhausen, she was able to restore them to their best possible state of health. Since she began to take in rescued cockatiels in 2011, Jeannine has taken in dozens of birds. Many with serious health issues that require ongoing medications.
Her interest in avian research originated in 2006 when her cockatoo was diagnosed with avian bornaviral ganglioneuritis (ABV).  Since then, she has studied avian health and disease. She has authored research papers and articles for the Beauty of Birds website; Academia.edu; her Facebook group, The Science of Avian Health, and the International Veterinary Information Service (IVIS). Jeannine is a Certified Avian Specialist from the Pet Advocacy Network, formerly PIJAC, and has completed The Fundamentals of Aviculture courses, Levels 1 and 2, from the American Federation of Aviculture. She is also an allied professional member of the Association of Avian Veterinarians.
Jeannine holds a Master's degree in English (MA) and a Master's degree in Education (M.Ed) and has written, proofread, and edited for several journals and newsletters. She lectures on avian health and disease, specifically ABV, in the Greater Cincinnati area.
View all content contributed by Jeannine Miesle, MA