Gourmet Nutri-Berries
U.S.-based Veterinarians and veterinary hospitals: you need to be Logged in to see pricing.
For Veterinary Professionals. By Veterinary Professionals.
The Lafebervet site is for use by veterinary professionals.
It is open to licensed veterinarians, licensed veterinary technicians, licensed rehabilitators and students in these fields.
Create an account for access to the site's articles and resources.
Registration is free-of-charge.
Not a member of LafeberVet?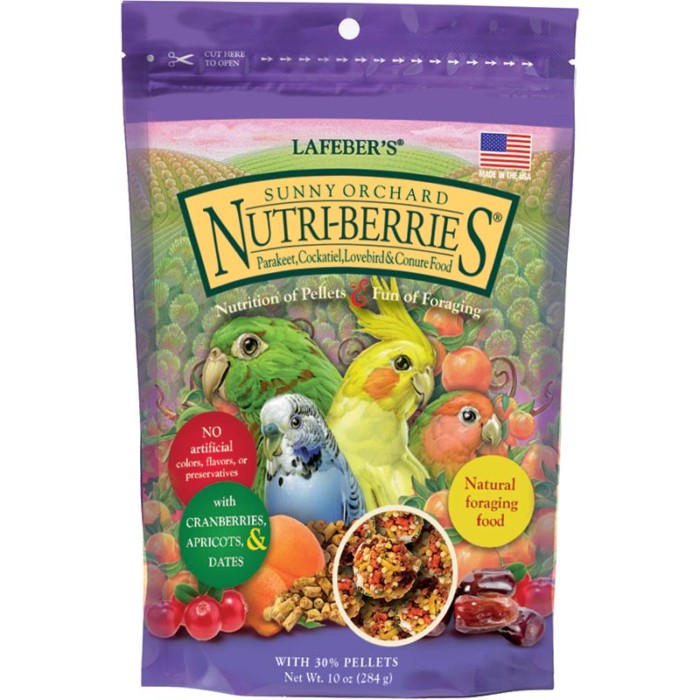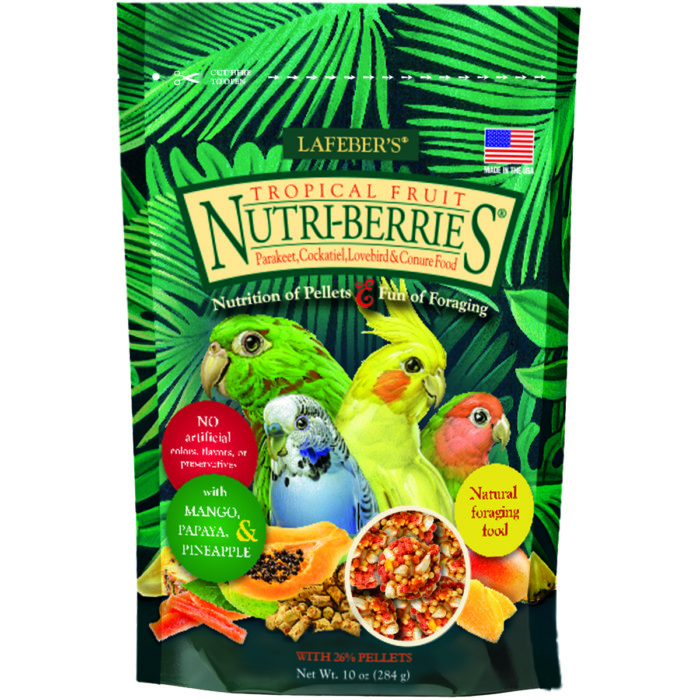 Nutri-Berries with Pizzazz!
Tropical Fruit ~ Sunny Orchard ~ Garden Veggie ~ El Paso
Gourmet Nutri-Berries provide appetizing flavors and a variety of textures and food shapes that require work to eat. Unlike loose seed mixes, Gourmet Nutri-Berries combine the solid nutrition of Classic Nutri-Berries with fruits, vegetables and other enticing ingredients.
Recommended Use
Nutri-Berries may be fed for maintenance or dietary conversion. The color, rich texture, and shape of the Nutri-Berry makes it an excellent foraging treat.
Features and Benefits
Natural ingredients with added vitamins and minerals.
Nutritionally balanced including essential fatty acids.
Naturally preserved with mixed tocopherols and citric acid.
Superior taste makes Nutri-Berries great for converting birds to a more healthy diet.
Guaranteed Analyses
Crude protein
(min) %
Crude fat
(min) %
Crude fiber
(max) %
Moisture
(max)%
Calories
(kcal/berry)
El Paso
10.0
6.0
5.0
14.0
—
Garden Veggie
10.0
6.0
5.0
14.0
—
Sunny Orchard
10.0
6.0
5.0
14.0
11.07
Tropical Fruit
10.0
6.0
5.0
14.0
10.60
Ingredients
Visit a specific product page for an ingredient list:
Quality Control
All seeds and grains are hand-inspected for cleanliness and freshness. We make small batches to insure the best quality possible.
Storage
Nutri-Berries are packed in resealable bags or freshness sealed tubs to maintain freshness and "chewiness".