Exotic-Wildlife
U.S.-based Veterinarians and veterinary hospitals: you need to be Logged in to see pricing.
For Veterinary Professionals. By Veterinary Professionals.
The Lafebervet site is for use by veterinary professionals.
It is open to licensed veterinarians, licensed veterinary technicians, licensed rehabilitators and students in these fields.
Create an account for access to the site's articles and resources.
Registration is free-of-charge.
Not a member of LafeberVet?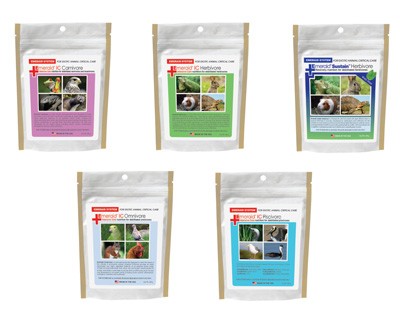 Intensive Care Nutrition
The Emeraid System for Exotic Animal Critical Care is designed to quickly provide life-saving semi-elemental nutrition for a wide variety of exotic animal patients during the critical first week of care.
Emeraid Intensive Care nutrition products contain high levels of glutamine and arginine for the debilitated patient, purified essential amino acids and hydrolyzed proteins, dietary nucleotides to provide DNA and RNA precursors, a highly digestible blend of fats and simple carbohydrates for energy, and balanced omega 3:6 polyunsaturated fatty acids.
Intensive care nutrition products are indicated for debilitated, cachectic patients; individuals with reduced digestive capacity, highly stressed patients needing the minimal numbers of feedings, and/or patients that require additional calories to maintain or gain weight
Emeraid Herbivore Nutritional Solutions
Emeraid Herbivore Nutritional Solutions are therapeutic diets designed to provide nutritional support to the herbivorous patient from critical illness to convalescence and recovery.
Emeraid Intensive Care (IC) Herbivore is a high fiber, semi-elemental diet designed to meet the needs of the critically ill herbivore.
Emeraid Sustain Herbivore is high fiber, recovery nutrition for herbivores. Choose this therapeutic diet for underweight herbivores, patients recovering from critical illness, or those suffering from chronic medical conditions. Sustain Herbivore is also designed to transition the debilitated herbivore from intensive care nutrition to normal feeding. As a recovery diet, Emeraid Sustain Herbivore contains more whole nutrients than the intensive care product, however this therapeutic diet is also easily absorbed and highly digestible.