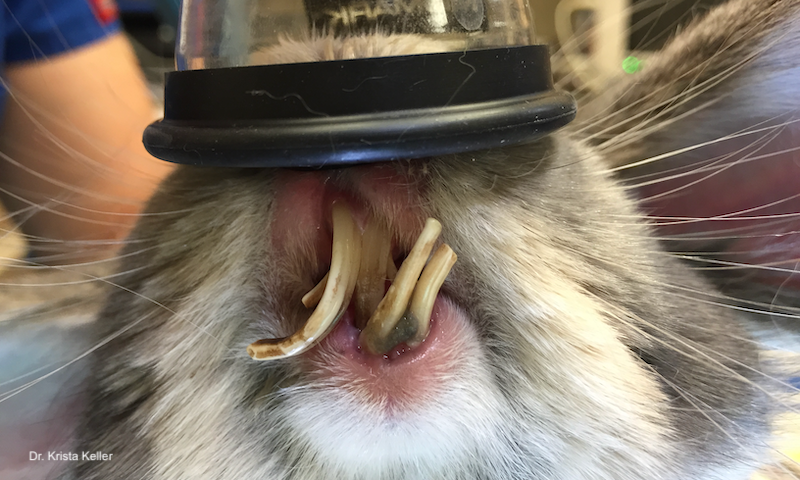 Save the Date
Save the Date for a continuing education webinar presented by Krista Keller, DVM, DACZM. This program is pending approval for 1 hour of continuing credit in jurisdictions that recognize RACE approval.

Date: Sunday, April 18, 2021
Time: 3 pm EST (New York)
What time is this in my time zone?

Abstract
Dental malocclusion is a common diagnosis in rabbits, guinea pigs and chinchillas and management requires a strong understanding of the normal anatomy and physiology of elodont dentition. Both congenital and acquired dental disease occur when there is a mismatch of dental growth and attrition, particularly when this is paired with malocclusion. The diagnosis of dental disease should be pursued when there are a supporting history, presenting complaint or general physical examination findings. A focused five-part oral examination that screens for apical and intraoral overgrowth can facilitate the identification of individuals suffering from dental disease, even if direct premolar and molar observation is not performed. Skull radiographs allow evaluation of apical tooth overgrowth and comorbidities including sinus and middle ear disease however when available, computed tomography can add a remarkable amount of information to the clinical case management in comparison to radiographs.
Definitive or palliative therapy for dental diseases is rarely an emergency, and animals should be stabilized prior to any procedures with fluid replacement, analgesia, and nutritional support. Based upon the specific diagnosis, an occlusal adjustment, extractions, apicoectomies or therapy for abscess may be performed. Specialized equipment for the specific elodont dentition are available and should be utilized in these cases.
Outline
Anatomy

Tooth type: elodont hypsodont
Occlusion and occlusion angles
Dynamic temporomandibular joint

Pathogenesis of dental disease

Factors affecting dental attrition and growth
Congenital vs acquired malocclusions

Diagnosis

History
Radiographs
Computed tomography

Treatment

Stabilization
Coronal height reduction
Extractions
Options for odontogenic abscesses
About the presenter
Krista Keller is an Assistant Professor at the University of Illinois at Urbana-Champaign. Dr. Keller is also an avian and exotics telemedicine specialist for Abaxis, Incorporated. Krista earned a Doctorate of Veterinary Medicine (DVM) from Ross University School of Veterinary Medicine in 2010.  She then completed an internship in companion animal medicine and surgery at Louisiana State University and a residency in zoological companion animal medicine at the University of California at Davis.. [Learn more].
Download and share the press release.
Webinar FAQ
How do I view the live webinar event?
After registering, you will receive a confirmation email via vetinfo@lafeber.com. To access the webinar on April 18, simply select the URL link in the confirmation email.
When entering the webinar "room", you will be prompted to download webinar service software. This software can be downloaded immediately before the webinar or right now to ensure a pleasant, viewing experience.
Have you used Zoom in the past? On May 30, 2020 the webinar service enabled encryption across their platform so please update to Zoom 5.5.5 now.
Do I need special equipment to view and listen to a webinar?
All you need is a computer (or similar device) with an internet connection. Provided your computer has speakers (can you listen to music?) you will be able to view and listen to the webinar.
To enter the webinar "room", you will be prompted to download webinar service software. This software can be downloaded immediately before the webinar or right now to ensure a pleasant viewing experience.
What web browsers are recommended?
Recommended browsers include Internet Explorer 8 or greater, Mozilla Firefox 3 or greater, Google Chrome or Safari 4 or later. Adobe® Flash® Player 11.3 or later must be installed.
What if I'd like to view the course on a mobile device?
Apps for viewing the webinar are available for Apple devices and Android devices.
Will I be able to ask questions?
If you attend the live webinar event, you will be able to ask questions by typing into the Q+A field on the webinar screen. The speaker will read out and answer as many of these questions as possible. Questions not addressed during the live webinar will be answered by email at a later date, then posted on this webinar page.
What happens if I miss the live webinar?
The webinar will be recorded, and the recorded version will be available for viewing within 3 business days of the live presentation.
Additional questions or concerns?
Please contact LafeberVet at vetinfo@lafeber.com.
RACE approval pending
This program is pending approval for 1 hour of continuing credit for veterinarians and veterinary technicians in jurisdictions which recognize American Association of Veterinary State Boards (AAVSB) Registry of Approved Continuing Education (R.A.C.E.) approval.
To cite this page:
Keller K. Rabbit and large herbivorous rodent dental disease. LafeberVet web site. March 22, 2021. Available at https://lafeber.com/vet/rabbit-and-large-herbivorous-rodent-dental-disease/