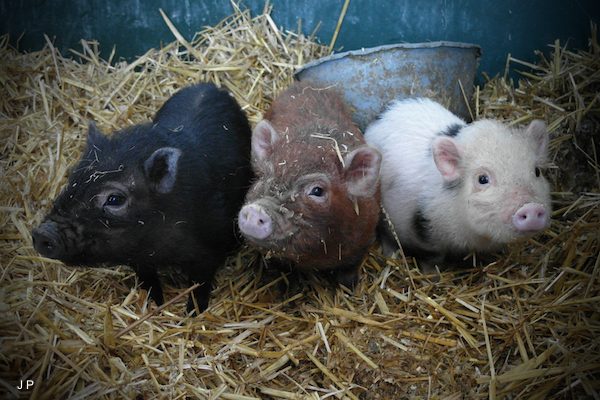 Lecture outline
Lecture topics include:
Holding small pigs
Crowd/sorting board
Crate
Harness
"The Pig Flip"
Chemical restraint

Trazodone + Gabapentin
Midazolam
Midazolam + butorphanol + xylazine (or dexmedetomidine)
Routine veterinary procedures
Physical examination
Hoof trim
Tusk trim (males)
Vaccination
Deworming
Abstract
Mini pigs remain a surprisingly common pet, with a resurgence in popularity every few years. Owners typically have a "small animal mindset", and as such, seek like-minded veterinarians, but lack of training and paucity of resources leads many veterinarians to shy away from these unique pets.
Pigs are prey animals and behave accordingly, making handling and restraint one of the most difficult aspects of patient care. Crowd or sorting boards are the most important piece of specialized handling equipment, although smaller pigs can be held, larger pigs can be flipped, and if necessary, safe sedation protocols exist to make these stubborn and vocal patients more manageable. Once the hurdle of restraint has been surmounted, veterinary care is relatively straightforward and often extrapolated from other pet species.
Physical exam of the pet pig is largely visual, with observation of body and hoof condition, attitude, ambulation and mentation. Knowledge of normal anatomy such as carpal glands and preputial diverticulum is helpful as these may cause concern for the uneducated owner. Nutritional advice is often needed as well since some commercially prepared mini pig feeds may provide inaccurate label instructions that lead to obesity. On the contrary, unscrupulous breeders may suggest feeding protocols that lead to malnutrition and emaciation in an effort to keep the pet at the small size promised. Owners must not only be taught to "feed to body condition" but must understand what constitutes good body condition in a mini pig.
Hoof trim, tusk trim, deworming and vaccination are the most common procedures performed by the veterinarian. Hoof trim, with proper shaping and balancing, is needed every year at a minimum; tusk trim may be occasionally needed for males but, as risk of tooth infection is high, only certain conditions warrant trimming. There is no universally accepted vaccination protocol, so the pet pig practitioner must develop one suited to the pig's environment and potential exposure, all while adhering to label instructions geared to much larger swine. Even deworming protocols vary, although evaluation is similar to other species and drug dosages specific to swine are available.
Overall, mini pigs can be a challenging species to vet, but with some guidance on their uniquities, pet pig health can be easily maintained.
About the presenter
Kristie Mozzachio operates a mobile "pet pig exclusive" practice serving the states of North Carolina, Virginia, Maryland, Pennsylvania, and New Jersey. She provides consults on pet pigs as well as research mini pigs, both nationally and internationally. She also serves as a veterinary advisor for Ross Mill Farm & Piggy Camp and Refuge GroinGroin in France. Dr. Mozzachio has also lectured on mini pigs at numerous meetings, and most recently she has co-authored mini pig chapters in the Exotic Animal Formulary and Diseases of Swine. [MORE]
Dr. Mozzachio can be contacted directly at potpigvet@hotmail.com.
Webinar recording
Post-test
With a passing grade of 70% or higher, you will receive a certificate for 1 hour of continuing education credit in jurisdictions that recognize AAVSB R.A.C.E. approval.
Evaluation form
What did you think? Please complete the evaluation form to provide feedback or to make suggestions for future webinar topics.
Download the presentation
Download Dr. Mozzachio's presentation:  PDF  (14 MB).
Contact us if you would like a copy of the PowerPoint file with annotated notes.
Expert Q+A
Although Dr. Mozzachio was able to answer most questions submitted during the live event, remaining questions were answered by email and are posted below.
​How often do you see struvite stones that require surgery?  
Infrequently, about 20 cases in the last 10+ years (although I suspect that there are more that have gone undiagnosed/untreated). Unfortunately, surgery is difficult due to the anatomy of the penis, and there is always the possibility of recurrence. I feel that routine urinalysis + survey radiographs would be very useful in males over about 8 years of age. A veterinarian at the University of Tennessee has postulated that age-related bladder atony predisposes to the condition since older males are typically affected.
Should pigs have their teeth hand scaled and polished routinely and do you recommend owners learn to brush their teeth with dog toothpaste products? 
Absolutely! Care of the teeth should be similar to that recommended for dogs and cats. However, very few veterinary clinics are willing to perform dental procedures on mini pigs, in part because intubation can be a challenge. It's also extremely difficult to access all teeth because pigs have such a narrow gape – much more difficult than a dog or cat dental. Owners should be encouraged to brush the teeth with dog toothpaste products or baking soda paste (IF possible – depends on the pig) . Some owners report success with dental chews designed for dogs. I'm more cautious about using dental chews since they must be the right size and consistency to prevent choking and allow for prolonged chewing. Many pigs eat like little sharks and simply "gulp" any food offered. So… it depends on the pig and the dental product both. At a minimum, all sedated pigs should have a brief oral exam and removal of any large tartar chunks. Pigs typically form tartar so severe that the build-up is the only thing holding a rotten tooth in place!
Do you recommend regular external and internal deworming or [do you] always check for clinical signs/examine feces and skin? 
​At the first wellness visit, I typically examine for skin parasites (visual at least + skin scrape of any suspicious areas), perform a fecal float, then give a round of dewormer regardless (i.e. dewormer dose every 10-12 days for a total of 3 doses). After that, I do fecal flotation every 6-12 months to monitor and only deworm as necessary. However, in a sanctuary/rescue with continuous influx of new pigs, I typically run fecal floats every 6 months to monitor egg count, and also deworm every 6 months. I switch dewormers every few years or if fecal float shows increasing egg numbers that might indicate resistance.
Is there any indication that male pigs will be more likely to obstruct from urethral stones if they are castrated too young? 
​I haven't seen any evidence that castration at a young age predisposes to urinary obstruction. I believe that age-related bladder atony, with incomplete emptying of urine, is the greatest predisposing factor.
How often do miniature pigs shed? 
Once or twice a year, usually during warmer weather, although they may shed when scared (i.e. thunderstorm) at any time of year.
What joint supplementation do you recommend? ​
Any human, canine, or equine supplement is fine in minipigs. Dasuquin® (Nutramax Laboratories) and Cosequin® (Nutramax) as well as injectable Adequan® (Luitpold Pharmaceuticals) have had good results.
RACE approval
This program 776-36251 is approved by the American Association of Veterinary State Boards (AAVSB) Registry of Continuing Education (R.A.C.E.) to offer a total of 1.00 CE credits to any one veterinarian and/or 1.00 veterinary technician CE credit. This RACE approval is for Category Two: Non-Scientific Clinical using the delivery method of Interactive-Distance/Non-Interactive Distance. This approval is valid in jurisdictions which recognize AAVSB RACE; however, participants are responsible for ascertaining each board's CE requirements. RACE does not "accredit" or "endorse" or "certify" any program or person, nor does RACE approval validate the content of the program.
To cite this page:
Mozzachio K. Routine veterinary care of the miniature pig. April 7, 2019. LafeberVet Web site. https://lafeber.com/vet/routine-care-mini-pig/