The postmortem exam is a key diagnostic tool used to understand the reasons for the animal's antemortem clinical compromise and/or cause of death. A necropsy can also provide valuable information to benefit other animals in a population and it can also help provide closure for a grieving owner.
Materials required for a complete necropsy include a necropsy protocol and necropsy form, as well as personal protective equipment, sampling and measurement tools, and collection containers. See A Necropsy Guide to Serpentes for detailed information.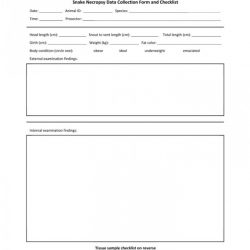 Download the PDF version of this Snake Necropsy Data Collection Form and Checklist, or modify the DOCX or DOC version for use by your veterinary hospital.