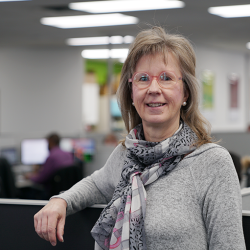 Dr. Debbie Stoewen is a licensed veterinarian and registered social worker with a PhD in the field of veterinary medical communication. With 25 years of practice experience, including being the founder and sole proprietor of a companion animal hospital, she is well-versed in the daily realities of veterinary practice. Debbie earned both her Doctorate of Veterinary Medicine (1983) and her Doctor of Philosophy (2012) from the University of Guelph. She also earned a Master of Social Work (MSW) from Wilfrid Laurier University in Waterloo, Ontario (2005).
Since 2013, Dr. Stoewen has been a member of the Board of Directors for The Farley Foundation, which was established by the Ontario Veterinary Medical Association to assist people in need by subsidizing the cost of veterinary care for their sick or injured pets. Dr. Stoewen is also a Volunteer Veterinary Practitioner for the Mission Veterinary Care program, which provides care for animals belonging to owners who are homeless, at-risk homeless, or street-involved.
Dr. Stoewen is an acclaimed animal health speaker, educator, and innovator. She was the CEO (Care & Empathy Officer) and Director of Veterinary Services at Pets Plus Us from 2013 to 2020. Here she provided a fully accredited veterinary continuing education program called "The Social Side of Practice" for veterinarians and their teams across Canada, as well as a professional counseling service for pet owners across Canada on difficult pet-related issues. From 2018 to 2020, Debbie also served as the Director of Veterinary Affairs of LifeLearn Animal Health, where she developed innovative continuing education to help veterinarians and their teams address the challenges of veterinary practice. Debbie is a member of a number of veterinary associations in Canada as well as the International Association for Animal Hospice and Palliative Care, the Ontario Association of Social Workers, as well as the Ontario College of Social Workers and Social Service Workers, The American Association of Human-Animal Bond Veterinarians, and the Animals & Society Institute.
View all content contributed by Debbie L. Stoewen DVM, MSW, RSW, PhD