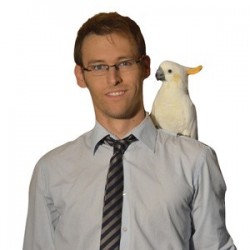 Dr. Graham Zoller practices in the Exotic Pet Department at the Fregis Veterinary Hospital Center in Paris, France where he is enrolled as a resident in avian medicine. He is also consultant at the Wildlife rehabilitation center of the National Veterinary School of Alfort. Dr. Zoller graduated from the National Veterinary School of Lyon in 2013 after having successfully defended his thesis on avian cardiovascular disorders. Then he completed an internship in Zoological Medicine at the Faculty of Veterinary Medicine of the Université de Montréal in 2014.
He is a member of the Association of Avian Veterinarians and lectures both nationally and internationally. His main clinical and research interest include avian cardiology, diagnostic imaging and development of prognostic markers in exotic pet.
Dr Zoller has served as a translator for LafeberVet Français.
View all content contributed by Graham Zoller, DMV, IPSAV