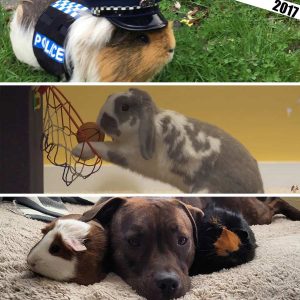 Welcome to 2018! A new year makes us think back to the year that was. Between the weather, politics, the solar eclipse, and other news, you might not think a lot happened with rabbits and guinea pigs in 2017. But it did! So what were some of the news items about rabbits and guinea pigs last year? Following are some of the top ones you won't want to miss.
Celebrity Rabbits And Guinea Pigs

Both good and bad news happened on the celebrity rabbit front in 2017. We learned that Vice President Pence's family includes a bunny named Marlon Bundo. And late in the year, Marlon Bundo got a book deal.
Peter Rabbit, famously of the Beatrix Potter book, was immortalized on U.K. coins created by The Royal Mint, and the first trailer was released for a new movie starring Peter.
Rabbits from a 1943 Long Island Rabbit Breeders Association show gained renewed notoriety when unpublished photos of them from the "LIFE" magazine archives were released.
Guinness World Records gave us a couple of interesting news items in 2017. Bini the Bunny earned a certificate for a rabbit doing the most slam dunks in a minute. Also, in sad news, a contender for the world's biggest rabbit died during a flight across the Atlantic.
The Guinea Pig Classics book series from Bloomsbury added to its titles with its version of Romeo and Juliet, and the popularity of guinea pigs retelling classic stories continues. And another book introduced the world to Dr. Guinea Pig George, making him a household name.
Social media stars are always in the spotlight, but two of note in 2017 were a Pit Bull and his guinea pig friends, and a group of guinea pigs who expertly play "the floor is lava" game.
Rabbits In The Wild
Wild rabbit news is always "hopping." One of the most viral wild rabbit news items in 2017 involved a public service announcement about saving wild baby rabbits' lives when mowing a lawn with "dead patches."
Hot on the heels of that lawn mowing tip for being viral is the video showing a man saving a bunny during the California wildfires in late 2017. Did he do the right thing? A debate erupted afterward.
In other wildfire news, endangered pygmy rabbits were saved by biologists after a wildfire swept across their small habitat in Washington state.
Endangered rabbits also hit the news in New Hampshire, where a Citizen Science Project asked the public to help in spotting the rabbits so that state agencies can make the best decisions about wild rabbit habitats. Similarly in Maine, biologists asked the public to report sightings of the endangered New England cottontail rabbit.
But perhaps nothing can top the photos showing ingenious wild rabbits outwitting Mother Nature by finding a unique way to survive flooding in New Zealand.
700+ Guinea Pigs
Large-scale rescues of rabbits and guinea pigs aren't something new. Whether from breeders or pet owners who got in over their heads, it seems that such rescues happen several times a year. In 2017, one of the biggest rescues involved more than 700 guinea pigs. The Los Angeles Guinea Pig Rescue is still home to hundreds of these rescued guinea pigs.
Guinea Pigs, Rabbits, And The Law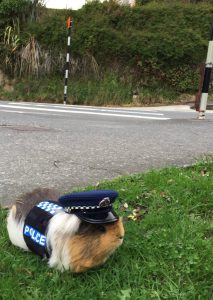 New Zealand brought one of the cutest stories about guinea pigs and the law in 2017. The New Zealand Police introduced a guinea pig constable to educate people about road safety. In a poignant twist, a few months later it was reported that the 4-year-old guinea pig had passed away.
Some amazing news came out of California in 2017, as it became the first state to ban sales of dogs, cats, and rabbits in pet stores. Some cities have passed similar laws, but California is the first state to have such a law.
And file these next two stories under the crazy encounters with the law category. A rabbit on a Boston bridge gave Massachusetts troopers a merry chase. And rabbits along the M11 in the United Kingdom could be classified as vandals, as their tunnels damaged the roadway.
Health Tidbits
On the health front, guinea pig owners in the United Kingdom were invited to participate in a survey about guinea pig care to understand more about giving them happy, healthy lives. And a guinea pig rescued from a house fire in Florida was treated by the fire department with a tiny oxygen mask. In a surprising report, The "New England Journal of Medicine" revealed that guinea pigs with pink eye or respiratory illness can pass along a virus that could result in pneumonia in some people.
Life With Rabbits And Guinea Pigs
What to name a pet is always a big question. One guinea pig rescue turned to a research scientist for help. The result? A neural network that popped out adorable guinea pig names on command. Other high-tech news involved rabbits, virtual rabbits actually. In the game Second Life, legal complications in the real world resulted in many of the virtual rabbits in the game going into hibernation.
Finally, in an interesting slice-of-life, a writer shared the experience of giving the family guinea pig a bar mitzvah.
This wasn't all the rabbit and guinea pig news from 2017, but now you know some of the highlights!