Editor's note: The bird community lost Liz Wilson when she passed away on April 13, 2013. Please visit our dedication page for her full biography, photos and comments from her colleagues.
Part I: The "Don'ts"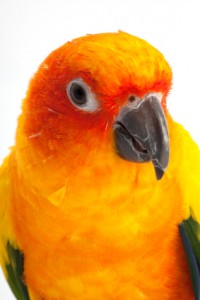 In this first of a two-part column, I will discuss the things to avoid when cohabiting with parrots and other avian species. My next column will discuss the "Do's." This is a simplified list and things are cataloged haphazardly, not in any order of importance. I should also comment that this is a perfect list for a perfect world. I, for one, have not avoided all the negatives, nor have I achieved all the positives. But what is the point of life, if we don't keep trying?
Thank you for the excellent input from my colleagues in the parrot division of the International Association of Animal Behavior Consultants: Lisa Bono of Barnegat, N.J., Chris Davis of St. Charles, Ill., Jon Peterson of South River, N.J., Karen Webster of Anchorage, Alaska, and Jamie Whitaker of Houston, Texas.
18 DON'Ts:
1. Use any brand of nonstick cookware
Despite all the warnings and publicity, fumes released from overheated nonstick cookware are still killing companion birds of all species. Nonstick coatings like Teflon appear in other things as well, such as hair driers and space heaters. Pet bird owners need to be extremely vigilant about this, and talking directly with the various companies prior to purchase can help.
2.  Tolerate behaviors that no one else can stand
I am horrified by the number of parrot owners who acknowledge, often with great pride, that their parrots have behavior problems that no one else would tolerate. It is as if they wear this as a badge of courage or something. However, since many parrot species are extremely long-lived, this means these owners are setting them up for failure in their next home. What kind of legacy is that? Serious problem behaviors need to be resolved, not ignored or tolerated.
3. Respond to behaviors you don't want by paying attention to the parrot
It is a sad reality that most pet bird owners ignore their parrots when they are being good and yell at them when they are bad. So the parrots' bad behaviors are being rewarded with attention. And why exactly wouldn't these bad behaviors continue?
4. Get any species of bird if you are an obsessive neat freak
Birds are messy creatures, period. Even tiny soft-billed birds like canaries and finches toss seed around, and every bird sheds feathers and feather dander. Neat freaks need not apply!
5. Don't get a parrot if you live in housing that allows NO PETS
People who smuggle parrots into "No Pet" housing end up teaching their parrots to be loud by trying to shut them up every time they make a peep, dooming the parrots to losing their homes. Quiet pets include fish and reptiles so people in such housing should consider them, instead.
6. Get a parrot just because parrots can talk
While a talking parrot can be amusing, human language will not justify how much work parrots are. Babies learn to talk too, but that's hardly a reason for starting a family! Radios can provide human speech if that is all that is needed, and they are much less demanding.
7. Don't expect your parrot to talk
Some species of parrots have a reputation for talking ability but that does not mean that every individual bird in that species will talk, as many don't. If talking ability is that important to you, consider a parrot that already talks. But parrots that talk in one environment may not in another, so there are no guarantees. And again, please reconsider getting a pet parrot if talking ability is really your only reason for wanting one.
8. Get a bird of any species just because it is beautiful
As with talking ability, beauty alone will not counter balance the negative aspects to bird ownership. If beauty is your sole motivation for wanting a bird, please stick to pictures; they are so much less problematic.
9. Get a parrot species that produces a lot of powder, such as a cockatoo, African grey or cockatiel, if you or a family member has respiratory allergies
These so-called powder-down species can produce respiratory problems even without allergies. Do not take the chance. The human's — and the parrot's — future depends on it.
10. Get a bird if you or a family member is sensitive to noise
As previously mentioned, birds make noise. If you (or a family member) values silence, perhaps a picture will work for you as well. I've been asked countless times how to get a talking/chirping/babbling bird to shut up. Radios come with 'off' switches. Birds do not.
11. You are already strapped financially
Even small birds need large and expensive cages and that is just the beginning of the financial outlay. When considering the cost of food, toys and avian veterinary medicine, birds are expensive to maintain properly.
12. Get a parrot if you're already too busy
Parrots are social creatures, and they need daily interaction, if only for a few minutes at a time, several times a day. If you haven't the time to provide that, then don't get one.
13. Don't cut corners on the price of toys, food and cages
As stated earlier, parrots are expensive. If you can't afford to do it right, don't get a parrot.
14. Get a large parrot if you live in a small space
If you cannot give a pet parrot the space it needs, then don't get one. Large parrots and extremely active smaller species require large cages and if you haven't the room, don't get one. Period.
15. Sleep with your parrot
Appalling though it sounds, numerous pet parrots (as well as infants) are suffocated yearly when sleeping alongside humans. There is no excuse to run this risk.
16. All-over petting
As far as an adult parrot is concerned, "all-over petting" is sexual foreplay. This needs to be avoided for obvious reasons, as sexual stimulation can lead to serious problems for owner and bird.
17. Get a long-lived species like a parrot when you won't commit to a long-standing relationship
Unlike shorter-lived companion animals like dogs and cats, many pet parrots can live a long time. Even a canary can live for 20 years and 50- to 60-year lifespans are common with larger parrot species, such as Amazon parrots, cockatoos and macaws. They need a long-term commitment from us. I recently encountered a young woman who was looking for a home for her 4-year-old Amazon parrot because she was going to college. Hello? The possibility of college didn't exist four years ago?
18. Get a parrot if there's even one person in your household who is not supportive of the idea
Parrots can be aggravating companions even for those of us who love them. To bring such an intelligent, sentient creature into a home where others do not welcome it is incredibly selfish and totally unfair. How would you like it if someone did that to you?
My column for next month will address The Do's for Living With Parrots.