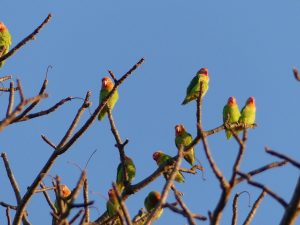 Little parrots are important too, so we're headed back to Africa to see how lovebirds are doing in their native habitat. These colorful little birds are aptly named for their strong, lifelong pair bonding. There are nine species in the lovebird genus, eight are native to continental Africa, and one to Madagascar. They live in small flocks and eat fruit, vegetables, grasses, and seeds. While fairly common in captivity, we have limited knowledge of their behavior and ecology in the wild.
Assessing Lovebird Populations
Between human expansion and natural disasters, some lovebird species are losing their corridors of movement. This greatly diminishes important opportunities for the diversity and overall health of the species. Dr. Tiwonge Gawa, Lovebird Research Officer for the World Parrot Trust (WPT), led the first wide-range study of several lovebird species in South Africa, Zambia, and Malawi. This research may be critical to their survival, because the survey revealed that population distribution is much smaller than expected. This, paired with their known ability to hybridize freely in captivity, may have severe consequences for certain individual species.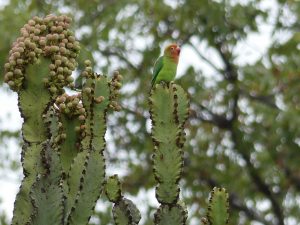 Lilian lovebirds were found to be most at risk since they depend on the large "cathedral" Mopane trees for roosting and nesting. These trees take years to grow but are being rapidly harvested for logging and charcoal production. A new WPT project is underway to deploy artificial nest boxes to see if these lovebirds might adapt to an alternative in the most affected areas. Lilian lovebirds are hard to breed in captivity, so it is especially important that we protect the species in the wild. This will be the first time that artificial nest boxes have been tried for wild lovebirds, an exciting new project!
Another critical project underway addresses the loss of entire flocks in Malawi where locals poison waterholes for bushmeat near the Liwonde National Park. WPT is working with the most affected communities to support education and long-lasting meaningful change to this destructive and deadly practice.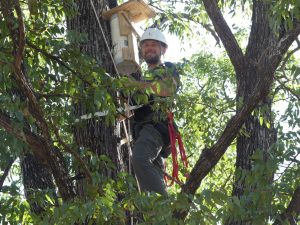 Lafeber's $500 GLOBAL PARROT conservation grant this month goes to the World Parrot Trust and the efforts led by Dr. Gawa and Mr. Sascha Düeker, WPT Lovebird Conservation Coordinator. This donation will help build and deploy first-time nest boxes for the Lilian lovebirds and support further educational efforts to prevent waterhole poisoning near the Liwonde National Park. You can also help! To make a tax-deductible donation, go to the donation section of the World Parrot Trust website. Earmark your donation specifically for African lovebird conservation and research.