The heart of Lafeber Company really is a true love for birds and is still inspired today by the special passion deep in the soft heart of our founder — Dr. Lafeber, Sr.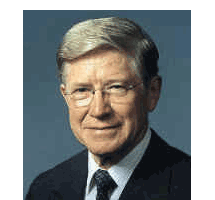 Dr. Lafeber, Sr., was the grandfather of avian medicine. He pioneered life-saving techniques in the avian field throughout his career, and he became known as one of the world's foremost authorities of pet bird care. Compassion for the malnutrition of the birds in his veterinary practice pushed him to develop and produce the very first pelleted diet for companion birds and eventually led him to start Lafeber Company.
Dr. Lafeber's innovative work was rewarded with numerous awards including the Association of Avian Veterinarians Lifetime Achievement Award.
Dr. Lafeber spent most of his life encouraging bird lovers everywhere and is best remembered for his inspirational bird lectures that enriched the lives of so many birds, bird owners, and veterinarians.
After all is said and done — it still comes down to a matter of the heart — a pure and simple love for birds!