Webinar: The Grey Way: Let's Talk Toys — Choosing Safe Toys
Date: Friday, April 22, 2022
Time: 12:00 pm PDT (double-check your local time with this time zone converter)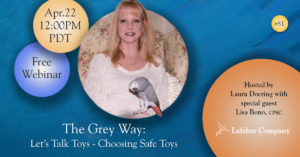 Join us for a FREE, live, interactive webinar hosted by Laura Doering, former editor of Bird Talk magazine and Birds USA magazine.
Our special guest, Lisa Bono, CPBC, owner and operator of The Platinum Parrot and a certified parrot behavior consultant specializing in African grey parrots, presents Episode 10 of The Grey Way, a Lafeber Pet Birds Webinar Series focusing on Congo and Timneh African grey parrots as pets.
In this episode, Lisa will discuss how to choose the right type of toys for your birds. There are safe and unsafe toys on the market, but even the safest toy can be a danger if given to the wrong-sized bird. Lisa will help you know what to look for, whether you are shopping for a tiny canary or the largest Macaw. While Lisa will also focus on Grey-centric concerns, her information applies to any pet bird species.
Missed our webinar? No problem! You can access the webinar in its entirety here: