Webinar: The Grey Way: The Healthy Grey — Keeping Your Bird Healthy & Happy
Date: Friday, February 18, 2022
Special Time: 12:00 pm PST (double-check your local time with this time zone converter)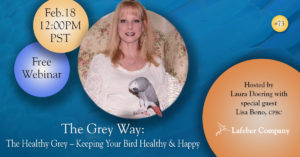 Join us for a FREE, live, interactive webinar hosted by Laura Doering, former editor of Bird Talk magazine and Birds USA magazine.
Our special guest, Lisa Bono, CPBC, owner and operator of The Platinum Parrot and a certified parrot behavior consultant specializing in African grey parrots, presents Episode 8 of The Grey Way, a Lafeber Pet Birds Webinar Series focusing on Congo & Timneh African grey parrots as pets.
In this episode, Lisa discusses what we can do at home to keep our birds healthy & safe by working with your avian veterinarian. She discusses the importance of physical and mental health by maintaining a healthy environment, both through cleaning and enrichment for your birds and providing a healthy diet. She will also discuss the importance of routine vet exams, including routine bloodwork, which can reveal unknown issues.
While Lisa will focus on Grey-centric concerns, her information will apply to any pet bird species.
Missed our webinar? No problem! You can access the webinar in its entirety here: