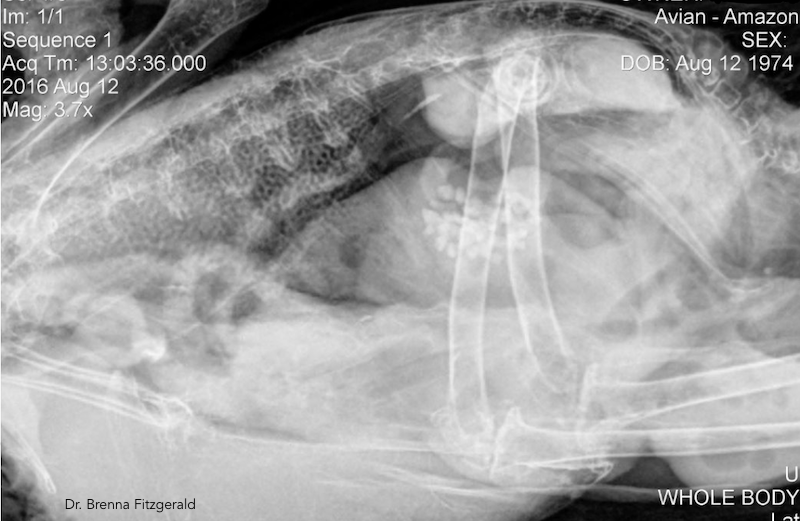 Save the Date
Save the Date for a continuing education webinar presented by Brenna Fitzgerald, DVM, DABVP (Avian Practice)

Date:  Sunday, June 5, 2022

Time:  3 pm EDT (New York or UTC-4); What time is that in my time zone?

Register today for this free, interactive, web-based seminar.

Abstract
Cardiovascular disease commonly occurs in companion birds and poses a serious threat to the quality of life and longevity of many avian species. Successful intervention requires a foundational understanding of relevant anatomy and physiology, as well as heightened awareness of risk factors and recognition of clinical disease states, including atherosclerosis, congestive heart failure, and pericardial disease and effusion. This lecture reviews key features of avian cardiovascular anatomy, disease states commonly encountered in practice, essential elements of a diagnostic workup, and current treatment approaches that can improve longevity and quality of life for these patients.
Lecture outline
Anatomy and physiology of the avian cardiovascular system

Cardiac features
Vasculature
Relevant respiratory anatomy
Cardiovascular control systems and hemodynamics

Cardiovascular disease states

 Atherosclerosis

Pathophysiology and lesion characterization
Clinical manifestations and sequelae
Prevalence and risk factors

Congestive heart failure

Pathophysiology
Clinical manifestations

Pericardial disease and effusion

Pathophysiology
Clinical manifestations
Diagnosis of cardiovascular disease
Treatment approaches to cardiovascular disease in the avian patient
Atherosclerotic disease
Congestive heart failure
Pericardial effusion and cardiac tamponade
Prognostic considerations and follow-up
About the presenter
Dr. Brenna Fitzgerald is an associate veterinarian at Homestead Animal Hospital in Centennial, Colorado. Dr. Fitzgerald is a 2007 graduate of Texas A&M University College of Veterinary Medicine. She then worked as an associate in a private, multi-doctor practice in Dallas, Texas, where she practiced small animal, avian, and exotic animal medicine. Dr. Fitzgerald then completed both a clinical internship and residency at Dr. Brian Speer's Medical Center for Birds in Oakley, California. She earned Diplomate status in avian practice in 2012. Dr. Fitzgerald has both published and presented on topics related to avian cardiology, including… [MORE]
Download and share the press release.
Webinar FAQ
How do I view the live webinar event?
After registering, you will receive a confirmation email via Zoom. To access the webinar on June 5, simply select the Join Webinar button OR copy and paste your personalized URL link into your browser.
When entering the webinar "room", you will be prompted to download webinar service software. This software can be downloaded immediately before the webinar or right now to ensure a pleasant, viewing experience.

Do I need special equipment to view and listen to a webinar?
All you need is a computer (or similar device) with an internet connection. Provided your computer has speakers (can you listen to music?) you will be able to view and listen to the webinar.
What web browsers are recommended?
Recommended browsers include Internet Explorer 8 or greater, Mozilla Firefox 3 or greater, Google Chrome or Safari 4 or later. Adobe® Flash® Player 11.3 or later must be installed.
What if I'd like to view the course on a mobile device?
Apps for viewing the webinar are available for Apple devices and Android devices.
Will I be able to ask questions?
If you attend the live webinar, you will be able to ask questions by typing into a chat box on the webinar screen. The speaker will read out and answer as many of the questions as possible.
What happens if I miss the live webinar?
The webinar will be recorded, and the recorded version will be available for viewing after the live presentation.
Additional questions or concerns?
Please contact LafeberVet at vetinfo@lafeber.com.
RACE approval
This program is approved by the American Association of Veterinary State Boards (AAVSB) Registry of Continuing Education (RACE) to offer a total of 1.00 CE credits to any one veterinarian and/or 1.00 veterinary technician CE credit. This RACE approval is for the delivery method of Interactive-Distance. This approval is valid in jurisdictions which recognize AAVSB RACE; however, participants are responsible for ascertaining each board's CE requirements. RACE does not "accredit" or "endorse" or "certify" any program or person, nor does RACE approval validate the content of the program.
To cite this page:
Fitzgerald B. Avian cardiology essentials. April 9, 2022. LafeberVet web site. Available at https://lafeber.com/vet/avian-cardiology-essentials/