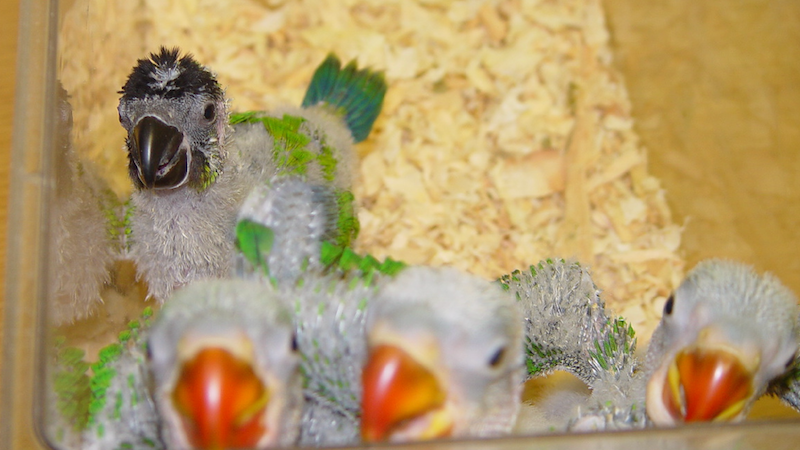 Photo credit:  Dr. Samuel Rivera
Save the Date
Save the Date for a continuing education webinar presented by Lorenzo Crosta, med vet, PhD, DECZM, EBVS European Veterinary Specialist in Zoological Medicine,FNOVI acknowledged veterinarian in Avian and Zoo medicine

Date:  Sunday, July 24, 2022

Time:  3 pm EDT (New York or UTC-4); What time is that in my time zone?

Register today for this free, interactive, web-based seminar.

Abstract
The objective of this presentation is to assist the exotic animal practitioner, with little or no experience in avian neonatology and pediatrics. This presentation will go through a logical diagnostic plan in the young bird. The approach to common pediatric conditions, ranging from developmental and orthopedic problems to common traumatic injuries and infectious diseases, will also be explored. Practical clinical examples will be presented.
Lecture outline
Download a PDF version of Dr. Crosta's outline.
Photos:  Dr. Samuel Rivera

Breeding techniques

Parrot breeding has changed a great deal in the past 30 years
From almost 100% hand rearing to almost total denial of this technique
Pros and cons

It is right to hand rear birds?
Is it better to have parent-raised chicks?

 Regardless of how chicks are raised, some young birds will become sick but the breeding technique will affect the problems observed
Recognition that there is a problem is also affected

The main obstacle to veterinary care of young birds
Most parrot owners do not have the needed experience to "perceive" if something is wrong with a young chick
Normal development

It is important for anyone involved in aviculture to understand normal development of the chick
Simplest way to monitor a chick's condition is to monitor growth and weight gain

Common mistake is to believe a chick is not doing well because it is under the "normal published" growing rate for a species
Growth curve

Study the complete growth rate of a chick and compare its share with published growth curves
Do not give too much importance to the body weight (BW) itself
As a general rule, healthy psittacine and Falconiformes chicks double BW over 7 days
Weight gain is not the only indicator of well being

Other parameters that should be considered:

Body proportions
Posture (species-specific)
Hydration status
Skin color, texture
Fat deposits
Tone and thickness of the crop
Regular feather development
Feeding response (species-specific)
How to identify a sick chick

Sick chicks are generally easier to ID than adult birds
Perform a complete physical examination
Ancillary testing

Crop and cloacal sampling, microbiology
Hematology is extremely useful
Blood chemistry is not considered very useful for birds of this age
Radiology

Species-specific differences in clinical signs and behaviors
Selected neonatal and pediatric cases

Infectious

Sinusitis
Omphalitis

Problems during incubation lead to an imperfectly sealed umbilicus at hatch that is easily colonized by bacteria
Regional invasion of the yolk sac can result in serious infection
Clinical signs

Weak
Distended abdomen
Slow crop emptying
Often evidence of a soft, "rotten" umbilical scar

Pneumonia

Common in young psittacine birds
Causes can be environmental, toxic or accidental (aspiration) but often an infectious agent plays a role
Chick presents with some degree of respiratory distress
Normal Pionus parrots can appear to be in distress when frightened
Diagnosis is based on radiographs, culture, blood tests, endoscopy (if chick size allows)
Treatment

Supportive care (oxygen, fluids, etc.) are needed in the first hours or days
Systemic and aerosolized antibiotics

Prognosis is extremely variable
Orthopedics

Angular limb deformity (curved limbs)

Affects one or more limbs, mostly the legs
Not uncommon, seems to be more common in grey parrots
Even a small imbalance in calcium metabolism seems to play a key role
Poor prognosis if more than one limb is affected
Survey radiograph
Derotational and dome osteotomy followed by mixed internal-external fixation
ARUS technique

Named after Dr. Alberto Arus
Aluminum can

Scissors beak

Fairly common problem in hand-reared chicks
Seems to be related tube feeding and particularly always tube feeding on one side
If diagnosed very early, can be adjusted using physical therapy/manual pressure several times per day
Plastic splint made with moldable rigid bandage material (i.e. Excelite®)

Splay or spraddle leg

Common orthopedic problem
One or both legs deviate laterally, often beginning at the hip or knee level
Cause is not completely understood, potential factors include:

Mineral deficiencies
Heredity
Wrong substrate
Lack of proper exercise

Turned feet

Less commonly seen
One (or both feet) rotate medially or laterally
Crop foreign bodies

Common problem (avoid having dangerous objects within reach of chicks)
Feeding tubes and other large objects can be retrieved manually or with the help of an endoscope
It is generally safer, quicker, and less stressful to remove small particles, like pieces of litter, via ingluviotomy
About the presenter
Lorenzo Crosta med vet, PhD, GP Cert (Exotic Animal), Diplomate ECZM, EBVS® European Veterinary Specialist in Zoo Health Management. In 2019 he was named the T.J. Lafeber Avian Practitioner of the Year. Dr. Crosta earned his Doctorate of Veterinary Medicine from the University of Milan in 1989. From 1990-1999, he worked in private practice in Milan, before serving as the Veterinary Director of Loro Parque in Tenerife, Spain from 2000 to 2005. Dr. Crosta also served as the Consulting Veterinarian to the Brazilian Government for the Spix's and Lear's Macaws Recovery Program from 2000-2014… [MORE]
Download and share the press release.
Webinar FAQ
How do I view the live webinar event?
After registering, you will receive a confirmation email via Zoom. To access the webinar on July 24, simply select the Join Webinar button OR copy and paste your personalized URL link into your browser.
When entering the webinar "room", you will be prompted to download webinar service software. This software can be downloaded immediately before the webinar or right now to ensure a pleasant, viewing experience.

Do I need special equipment to view and listen to a webinar?
All you need is a computer (or similar device) with an internet connection. Provided your computer has speakers (can you listen to music?) you will be able to view and listen to the webinar.
What web browsers are recommended?
Recommended browsers include Internet Explorer 8 or greater, Mozilla Firefox 3 or greater, Google Chrome or Safari 4 or later. Adobe® Flash® Player 11.3 or later must be installed.
What if I'd like to view the course on a mobile device?
Apps for viewing the webinar are available for Apple devices and Android devices.
Will I be able to ask questions?
If you attend the live webinar, you will be able to ask questions by typing into a chat box on the webinar screen. The speaker will read out and answer as many of the questions as possible.
What happens if I miss the live webinar?
The webinar will be recorded, and the recorded version will be available for viewing after the live presentation.
Additional questions or concerns?
Please contact LafeberVet at vetinfo@lafeber.com.
RACE approval pending
This program is pending approval by the American Association of Veterinary State Boards (AAVSB) Registry of Continuing Education (RACE) to offer a total of 1.00 CE credits to any one veterinarian and/or 1.00 veterinary technician.
To cite this page:
Crosta L. Avian neonatology and pediatrics. June 2, 2022. LafeberVet web site. Available at https://lafeber.com/vet/avian-neonatology-and-pediatrics/