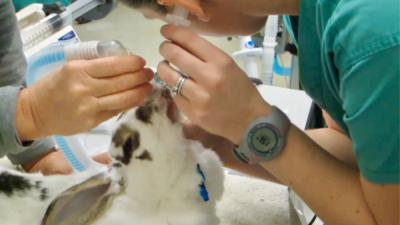 Abstract
Exotic small mammals can be challenging to safely induce, maintain and recover from general anesthesia. This RACE-approved, non-interactive webinar explores clinical anesthesia in exotic companion mammals from patient assessment and anesthetic induction to monitoring and recovery.This recording discusses the importance of proper physical examinations, the pharmacology of common anesthetic drugs or fluids, including the use of constant rate infusions and locoregional anesthesia techniques, intravenous and intraosseous catheterization, intubation techniques, and how to choose monitoring equipment in common companion exotic small mammal species.
Outline
Download a more detailed lecture outline in DOCX or PDF format to follow along with Ms. Nugent-Deal.
About the presenter
Jody Nugent-Deal is a registered veterinary technician and veterinary technician specialist in anesthesia/analgesia and clinical practice – exotic companion animal. She has worked for the University of California at Davis Veterinary Medical Teaching Hospital since 1999, working in the Companion Exotics Department for 10 years and currently the Anesthesia Department where she is the supervisor. Jody is a founding member of the Academy of Veterinary Technicians in Clinical Practice and currently serves as the Executive Secretary for the group. Jody is also an active member with the Academy of Veterinary Technicians in Anesthesia and Analgesia… [MORE].
Webinar recording
Question & Answer Session:  Visit the Expert Q+A section below for a written transcript of the Q+A session from Ms. Nugent-Deal's 2016 webinar.

Supplemental v-gel video
Post-test
Take the post-test. With a passing grade of 70% or higher, you will receive a continuing education certificate for 1 hour of continuing education credit in jurisdictions that recognize AAVSB RACE. approval.
Expert Q+A
After generously recording an updated webinar in 2023, Ms. Nugent-Deal reviewed the Q+A transcript from her 2016 webinar. Her responses have been updated as needed.
PRE-ANESTHETIC TESTING
Q:  Do you perform full blood chemistry and CBC's on the larger exotics?
A:  In the ideal world, we would do a complete CBC/panel in every patient before inducing anesthesia regardless of size. If you're using an outside lab, talk to them first about the minimum amount of blood needed. At our practice, we can do a full CBC/biochemistry panel on 0.7 ml of blood so that allows us to do a full pre-anesthetic evaluation on many patients. If you cannot do a complete CBC/chem, consider at least bare minimums like PCV/TP, blood glucose, and Azostix® reagent strips, which estimate the approximate concentration of urea in a single, unmeasured drop of blood may be estimated.
If you have a patient that's young and healthy, your veterinarian may elect to skip the blood work but that is still something routinely offered to clients at my hospital.
PREMEDICATION
Q:  What do you use for hamsters for pre-anesthetic and induction meds?
A:  There is no one black and white protocol for any veterinary patient. Tailor the protocol to that individual patient. For a lot of exotic companion mammals, including hamsters, we generally use an opioid plus a benzodiazepine like midazolam.
I just say generically "opioid" because for non-painful procedures, the opioid selected is often butorphanol. For a mild to moderately painful procedure, buprenorphine is often selected. For any procedure, a full mµ opioid may be selected. We use a lot of hydromorphone or morphine but any can be used.
You can use agents like ketamine, dexmedetomidine, and others like that, but I honestly find that when I use an opioid plus midazolam I get the results I need.
Q:  Do you prefer glycopyrrolate over atropine to increase heart rate and reduce respiratory secretions in small mammals?
A:  You can use either glycopyrrolate or atropine in most exotic small mammals. It is important to remember that approximately one-third of rabbit patients possess the enzyme atropinase. Therefore, atropine won't actually work since the drug's action is blocked.
Remember also that atropine is shorter acting and it takes a relatively short time to become effective. Glycopyrrolate is longer acting and it takes longer to become effective. Therefore in an emergency situation, always try atropine first then move onto glycopyrrolate.
Q:  Do you have a source for glycopyrrolate? It's been on backorder for a couple of years now.
A:  Jody shared that they are able to obtain glycopyrrolate without incidence at UC Davis, however a chatbox entry was Roadrunner Pharmacy.
ENDOTRACHEAL INTUBATION
Q:  Do you recommend intubation if your clinic does not have capnography?
A:  Yes absolutely! We recommend control of the airway whenever possible, with or without capnography.
Q:  Can you feel it [the soft palate] flip or is it just feeling the breathing through the tube?
A:  No. For the most part, I cannot feel the ET contact the soft palate and push it out of the way. The tube usually just goes up against the soft palate and flips right past it. If I cannot flip the soft palate open, I only know this when I confirm the tube has been placed in the esophagus instead of the trachea.
Q:  How do you know how far to push the ET tube?
A:  Just as with dogs and cats, the tube should be premeasured. The ET tube should end at the thoracic inlet. Most tubes have numbers on them , which can help with premeasurement.
Q:  For a dental procedure, do you still recommend intubation if possible? When I've tried, I found that there isn't enough space in the oral cavity.
A:  Our dentist would prefer that we did NOT intubate these patients, but we generally intubate all rabbits and ferrets. When it comes to guinea pigs and chinchillas and the smaller rodents, we do not intubate them mainly because of space but also because they are often difficult to quickly and easily intubate.
But even in a Netherland dwarf rabbit, intubated with a 2.0 ET tube, our dentist will work around the tube. A lot of the time, we will untie the ET tube and the anesthetist moves the tube from one side to the other as needed.
Q:  Would tissue glue be just as good [for securing a tube instead of suture]?
A:  No, I would not recommend tissue glue. I feel it's not going to hold the ET tube in place as well and can be very messy. Also, when I've stapled an ET tube into place, I've had the tape get wet and the tube has been pulled out.
V-GEL®
Q:  Are V-gels recommended over ET tube for inexperience in intubating rabbits?
A:  If you don't have access to someone who can teach you how to successfully intubate rabbits, then I think v-gels are a great alternative and much better than maintaining the patient on a mask. When compared to rabbit intubation, the learning curve is not very high for v-gel use. They're very easy to place

Q:  Does the V-gel require a capnograph?
A:  Yes. The company requires/recommends a capnograph be used in the event the V-gel slips off of the patient's airway. We have had this happen in our practice.
FACE MASKS
Q:  Can you address adapting these mini masks?
A:  When we make our own masks, we have to get creative. What we do is take a 6 cc, 12 cc or sometimes a larger syringe case and we cut the bottom off, then we adapt it to a plastic elbow. And frankly it doesn't even have to be a plastic elbow, we use anything that will adapt to a Bain's circuit or a non-rebreathing circuit. Then we glue the syringe to the elbow with quick-drying epoxy.
MONITORING

Q:  Can you discuss monitoring depth of anesthesia in small mammals?
A:  We use the same type of tests used in dogs and cats when looking at depth of anesthesia. The same anesthetic planes apply to exotic small mammals. For the most part, techniques to assess monitoring depth are also the same. I look at toe pinch, jaw tone, palpebral and corneal reflexes. Sometimes jaw tone is more difficult to evaluate in small mammals like the rabbit, guinea pig, and chinchilla, because the mouth doesn't open much anyway, but you can still assess trends.
Q:  We take blood pressure (BP) in bunnies and ferrets but find it hard in smaller patients because the cuffs are too big. Are there smaller cuffs available?
A:  Unfortunately, there are not very many good options for really small patients.
I have looked into buying cuffs for rats, mice and other small patients, and right now there are not any commercially available cuffs. There used to be a source for use in lab animal use, but they are now off the market.
So what we do is we use a #1 blood pressure cuff in most of these small patients. Another option is the digital pressure cuffs or penile pressure cuffs used in human patients. You can get them down to a very small size like 1.6 or 1.9; I'll use those for the very small guy.
Remember you're not going to have a perfect fit in these guys with tiny little legs, but again we're looking at trends. Also, sometimes if you use the hind limbs instead of the forelimbs the cuffs will fit a little better.
Q:  What is the best blood pressure (BP) device you have found to use on ferrets and guinea pigs?
A:  If you're not using direct arterial BP, Doppler provides the most accurate measurements.
Oscillometric monitors are programmed to work by reading pressures and pulses in the cuff. There's an algorithm in the machine's computer system.
Because our patients are so small, these monitors are unlikely to work very well. What I always tell people is oscillometric blood pressure monitoring is not going to work very well in very small dogs and cats, small exotic patients, or patients that are bradycardic or tachycardic, or really arrhythmic so we tend to stick with the Doppler and measure systolic BP.
Q:  I was wondering about location for blood pressure measurements
A:  For most exotic companion mammals, we're going to put the Doppler probe on the medial aspect of the forelimb (radial carpal artery) or usually on the medial aspect of the hind limb (dorsal pedal or femoral arteries). Then we're going to place the cuff proximal to that. The tail artery can be also be used in the ferret

Q:  Which capnograph do people use commonly?
A:  There are many capnographs on the market today. One of the most popular models is probably EMMA by Masimo. They're nice little capnographs because they have a pediatric and adult mouthpieces, so dead space can be reduced. It is a mainstream capnograph; there is no side stream ability, but it is very portable so it's nice for some of our small patients.
Tidal Wave was a very popular brand, but my understanding is they're taking this product off the market so once those are gone, they're gone. SurgiVet is also popular.
Of course there also many different multi-parameter monitors in which capnography is included. Any type of capnograph can be used for any intubated patient.
EPIDURALS
Q:  What size spinal needle?
A:  I generally use a 1 inch 25g spinal needle.
View Box 1 in LafeberVet's Epidural Anesthesia in Small Mammals for additional information on recommended needle size in selected small animals.
Q:  What opioids do you use for epidurals on exotics?
A:  The opioids that we most commonly use, in all species, are preservative-free morphine and preservative-free buprenorphine. Preservative-free morphine is used most commonly. Buprenorphine is used less commonly. That is the regular, "old school" buprenorphine, not extended release or Simbadol.
Although not opioids, local anesthetics like lidocaine or bupivacaine are also commonly added.
CONSTANT-RATE INFUSIONS (CRIs)
Q:  What about fentanyl?
A:  We use fentanyl CRIs on many patients under anesthesia. Remember fentanyl should really only be used when the patient is intubated because it can cause fairly severe respiratory depression, especially at higher doses.
Q:  What dose of fentanyl would you use for a rabbit or ferret CRI?
A:  Doses for exotic small mammals like rabbits and ferrets tend to be higher. In our practice we use 1 µg/kg/minute. Compare this to feline (0.2-0.4 µg/kg/min) or canine (0.5-0.7 µg/kg/min) doses. The loading dose for exotic mammals is often 5-10 µg/kg. More research is definitely needed to look at the pharmacokinetics of these doses in exotic companion mammals.
Caution: A fentanyl CRI should only be considered if the patient is intubated. These doses described above can potentially be used in other exotic companion mammals like guinea pigs and chinchillas but only if the patient is intubated.
HAMSTER CASE
Q:  [I am trying] to figure out what went wrong with a hamster patient. We don't do much with them but we used ketamine, buprenorphine, and dexmedetomidine. About 45 minutes after surgery the hamster became unresponsive, we thought it was dead and after…about one hour the patients whiskers started to twitch and was back from the dead! The body was cold and there was no audible heart beat.
A:  Many things could have happened here.
Probably most importantly, these patients have a high surface area to volume ratio, so they can get cold very fast.
Was the patient on inhalant gas? If the patient was severely hypothermic, that reduces MAC.
We can also potentially overdose patients, which can be made worse by hypothermia.
Finally both ketamine & dexmedetomidine can cause a decent level of unresponsiveness. What I would do in this situation if I was worried about the patient dying would be to reverse the dexmedetomidine.
Links
The following website hyperlinks were shared by our presenter or attendees:
RACE approval
This program was reviewed and approved by the American Association of Veterinary State Boards (AAVSB) Registry of Approved Continuing Education (RACE) program for 1 hour of continuing education in jurisdictions, which recognize AAVSB R.A.C.E. approval.
Please contact the AAVSB R.A.C.E. program if you have any comments or concerns regarding this program's validity or relevancy to the veterinary profession.
To cite this page:
Nugent-Deal J. Exotic small mammal anesthesia. January 3, 2023. LafeberVet web site. Available at https://lafeber.com/vet/exotic-small-mammal-anesthesia/