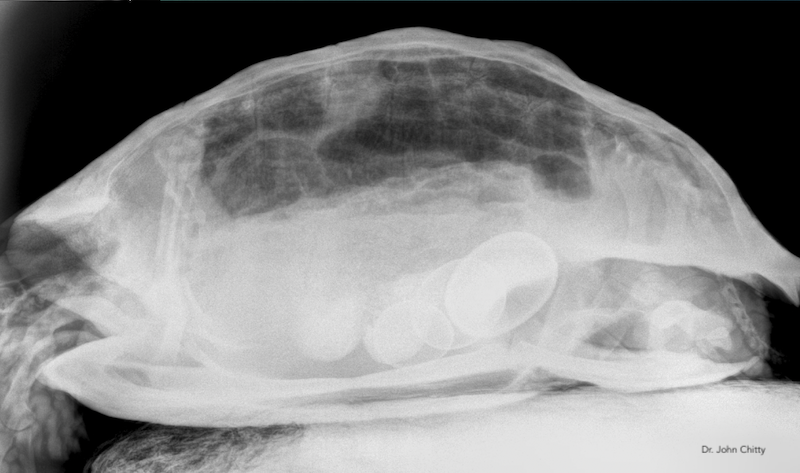 Abstract
This talk is not intended to be a complete coverage of chelonian medicine nor is it a summary of diseases of this group of tortoises. Instead it will concentrate on the unique features of this group of terrestrial Chelonia and how these adaptations to a unique biome affect the keeper and veterinarian in terms of their husbandry and disease investigation. In the UK, Mediterranean tortoises have been commonly kept for centuries and failure to control environment adequately has resulted in many of these tortoises dying and being replaced from the wild. As a result, many of these species are now listed by the Convention on International Trade in Endangered Species. Rising costs of these pets have resulted in improvements in understanding of these species and in their husbandry. Similarly, most of the younger tortoises now are captive bred on "farms" in eastern Europe.
Unfortunately, the intense production and mixing in distribution has resulted in a rise in respiratory disease. Again, this talk will not dwell on the specific pathogens, firstly due to lack of time but also because most of these infections (herpesvirus, mycoplasmosis) are lifelong and keeping these affected animals healthy depends more on good husbandry than on good medicine. Reproductive disease is common in females and is often linked to a failure to appreciate their reproductive strategies including the annual ovarian cycle. Many of these tortoises will hibernate and this will be covered in some detail as poor preparation pre-hibernation and a badly managed hibernation will result in clinical disease. As ever with long-lived reptiles, this may take a long time to result in overt clinical signs and without this direct "cause-and-effect" it can be difficult to persuade those using traditional keeping methods to change their ways. Coverage of clinical investigations will include imaging but will concentrate on clinical pathology as blood sampling is often an essential part of any protocol in assessing underlying disease or poor husbandry. Finally, there will be brief coverage of the role of husbandry and of the veterinarian in disease prevention.
Outline
Captive husbandry

Heat
Ultraviolet light
Humidity
Substrate
Nutrition and water

Hibernation needs and management
Reproduction and annual cycle

Causes of follicular stasis
Diagnosis and management of follicular stasis

Clinical investigations

Examination and history taking
Blood sampling
Hematology and biochemistry interpretation
Radiography
Endoscopy

Disease prevention and role of tortoise parties
About the presenter
Dr. John Chitty is a Royal College of Veterinary Surgeons (RCVS) Advanced Practitioner in Zoological Medicine. He qualified from the Royal Veterinary College in 1990 and gained a RCVS Certificate in Zoological Medicine in 2000. Dr. Chitty is co-director of a small animal/exotics practice in Andover, Hampshire UK with a 100% avian/exotics/small mammal caseload, both referral and first opinion. He is consultant to seven zoological collections, a commercial laboratory, and the Great Bustard Reintroduction project. Dr. Chitty has co-edited three texts on avian medicine, one on rabbit surgery, and he is co-author of a textbook on tortoise medicine… [MORE]
Webinar recording
Notes:
Website recommended by Dr. Chitty:  UV guide UK 
Conversion of temperatures recommended by Dr. Chitty:
| | |
| --- | --- |
| Preferred optimum temperature zone (POTZ) | Hibernation (brumation) |
| 25-35°C (77-95°F) | 5-8°C (41-46.4°F) |
Post-test
Complete the brief quiz. With a passing grade of 70% or higher, you can download your continuing education (CE) certificate for 1 hour of CE credit in jurisdictions that recognize American Association of Veterinary State Boards (AAVSB) Registry of Approved Continuing Education (RACE) approval.
Evaluation form
What did you think? Please complete the evaluation form to provide feedback or to make suggestions for future webinar topics.
Expert Q&A
Dr. Chitty answered virtually all questions during the live event. One remaining question was answered by email and is posted below:
If a female tortoise has been hibernating regularly, would you recommend her to find a playdate with a male, to prevent follicular stasis.
Yes, definitely! Ideally mix through May and June (in the Northern hemisphere!)
RACE approval
This program is approved by the American Association of Veterinary State Boards (AAVSB) Registry of Continuing Education (RACE) to offer a total of 1.00 CE credits to any one veterinarian and/or 1.00 veterinary technician CE credit.
To cite this page:
Chitty J. Keeping and treating Mediterranean tortoises. Feb 25, 2022. LafeberVet web site. Available at https://lafeber.com/vet/keeping-and-treating-mediterranean-tortoises/