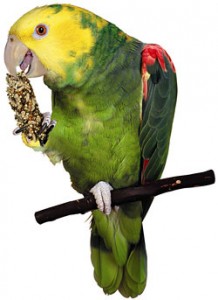 Come on in — we're glad you're here!
If you are looking for great bird food for your parrot, macaw, cockatiel, parakeet, or any feathered friend in between, you have come to the right place!
Lafeber Company knows what your bird needs and takes pride in offering the highest quality, non-GMO nutrition in pet bird food available on the market today. Lafeber Company also knows what your bird likes — that's why our diets are exciting and fun, as well as nutritious!
We are delighted to introduce this new blog venue to keep you — our valued customers — updated and informed on the intricate world of pet birds and pet bird food. We will be featuring  lots of topics to help you keep your bird healthy and happy. You won't want to miss stories from some of our long-time customers and perspectives from top avian experts. We hope you will enjoy getting to know us and come to understand our dedication to you and your bird.
We invite you to visit us often!