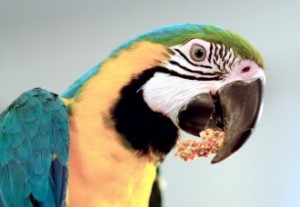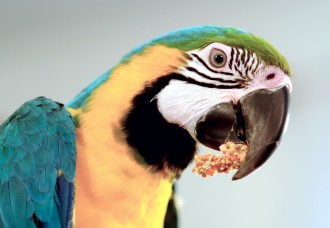 Macaws are a force to be reckoned with. Everything about them is big — from their voices to their attitudes! These beautiful creatures are so colorful that they call attention to themselves even when they are quiet. Macaws may seem formidable to the uninitiated novice, but those who share their lives with these magnificent friends know that they have surprisingly soft, loving hearts and sensitive natures. Macaw people adore their great friends to the very core of their being, and for good reason. It only takes one gentle kiss from their giant beak to open the stoniest of hearts.
Lafeber bird foods are ideal for your lively macaw — a bird that needs good nutrition and appreciates the opportunity to tear food apart!
Lafeber Company is dedicated to making the best bird food possible for your macaw and can offer you the benefit of our years of research. Our non-GMO foods incorporate pellets, seeds, fruits and vegetables, balanced Omega 3 & 6 fatty acids and chelated minerals. We believe that bird food should be nutritious and exciting at the same time, so you will find that our diets are designed to promote healthy foraging and enrichment.
Our balanced bird foods for your Macaw include Classic Nutri-Berries and Gourmet Nutri-Berries. Avi-Cakes, Pellet-Berries, and Premium Daily Diet Pellets round out the list.
A long, happy, healthy life starts with good nutrition, and we invite you to check out our diets.
We offer our best to you so you can offer the best to your macaw!