Editor's note: The bird community lost Liz Wilson when she passed away on April 13, 2013. Please visit our dedication page for her full biography, photos and comments from her colleagues.
This is Part 3 of Liz Wilson's series on accidental rewards. Please also read "Part 1: What Are You Actually Rewarding?"  and "Part 2: Excessive Screaming."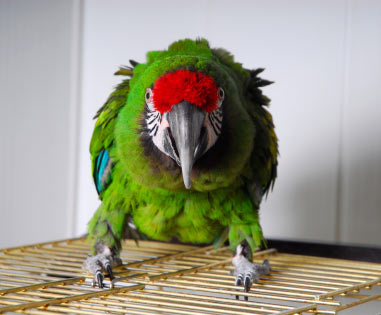 Several years ago, I regularly groomed a very sweet African grey parrot named Tommy (not his real name). Our relationship entailed some sweet talk and a gentle towel wrap, plus the trimming of his wing feathers and nails ‑ nothing more than that. During the years that I worked with him, Tommy never tried to bite me. So I was understandably quite startled when his owner started complaining that Tommy was biting her. Amazed, I asked, "What are you doing that's getting him to bite?" The answer was, "Nothing!"
There is no such thing as a parrot biting for no reason. No such thing. It is, however, common for a parrot to bite for no reason that humans understand. BIG difference.
I questioned the owner further, and it turned out that Tommy was most prone to bite when the owner was petting him. So I asked, "Does Tommy gently push your hand away when you are petting him?" The owner looked surprised and said, "Yes." Indeed, Tommy would push her hand away repeatedly before he would bite. When queried further, the owner said that when Tommy bites her, she goes away.
The owner obviously did not recognize that by pushing her hand away, Tommy was very courteously asking the owner to stop. By continuing to pet the grey despite the parrot's gracious requests, the owner was clearly sending the message that Tommy's opinions do not matter.
I explained the ABC approach of applied behavior analysis in more detail in Part I of this little series, titled What Are You Actually Rewarding? Briefly stated, A = Antecedent, or what comes right before the target behavior; B = target Behavior; C = Consequence, or reason why the behavior continues. Applying this formula to Tommy's situation, we have the following:
A = Owner is petting Tommy when he does not wish to be petted
B = Tommy bites
C = Owner stops petting him and goes away
So this well-meaning but clueless owner is teaching her very sweet grey that biting is the only means of communication that she understands.
Improved Communication
My friend and colleague, Certified Parrot Behavior Consultant Jamie Whitaker, points out that parrots use their beaks to express their feelings. As she put it, "A bite isn't automatically a statement about likes and dislikes as much as it is a way to communicate something."
Years ago, many of us who worked as parrot behavior consultants talked about "taking a bite," that getting bitten was a part of living with parrots. While I still feel that way to a small degree, my focus now is on preventing the bite, not surviving it.
Preventing a bite means finding better ways to interact successfully with your parrot. If you watch its body language and are sensitive to its feelings, your parrot will not need to resort to biting. After all, a parrot is not a little automaton that we own. It is an intelligent and sentient creature that has its own opinions. If it is pushing your hand away, or leaning away from your hand, your parrot is very emphatically telling you that it does not like what you are doing. So you need to stop immediately and find another approach.
Does this mean, as some people have said, that you should never make a parrot do anything it does not want to do? Of course not. Life isn't like that. If my house is on fire, I'm not going to ask my blue-and-gold macaw Sam if she feels like coming out of her cage so we can evacuate. But instead of battling daily over every little thing, a much better approach is to teach your parrot to choose to do what you wish it to do.
Non-Confrontational Approaches
Many decades ago when I was asked how to deal with biting, I would happily rattle off a formulaic, one-size-fits-all response. Then I gained more experience and the more I learned the more I realized my early approach was wrong. If you have a parrot that bites you, you need to figure out WHY or you will never successfully resolve the problem. Once you figure out the why, changing what leads up to the bite is often all you need to do to eliminate the behavior.
One client had a small parrot that would only bite when she tried to step the bird off the kitchen table after breakfast. Further questioning revealed that she would then give the bird a bath and he didn't like bathing. Once she patiently taught the bird to enjoy having a bath, the problem was resolved.
Another client's parrot bit him when he tried to step it up off the top of its cage. It is natural for a parrot to be territorial, so he needed to work with the bird away from the cage. He taught it that stepping up politely ALWAYS earned it something it really enjoyed, like a tiny bit of a sunflower seed. Once again, the issue went away.
A third client's parrot would get rowdy and aggressive when she had visitors. This problem was easily resolved by not trying to handle the bird when strangers were present. Once the bird settled down and the client recognized it was simply afraid, she figured out how to keep the parrot feeling safe when new people were around. When the bird gained sufficient confidence that it was not being threatened, its defensive aggression disappeared.
Simplistic Approaches
Due to the space limitations of this column, I have offered simplistic explanations for resolving what are often complicated problems. The important message is stop trying to change a behavior before you have any understanding of what is triggering it. Using the ABC approach is an extremely valuable tool for analyzing a situation. Once analyzed, it is often clear how you need to change circumstances to resolve the problem.