Editor's note: The bird community lost Liz Wilson when she passed away on April 13, 2013. Please visit our dedication page for her full biography, photos and comments from her colleagues.

During one of my lectures, an audience participant complained that her parrot no longer stepped up consistently. She said that she had "tried everything" but nothing helped. My colleagues and I hear this claim frequently, but the odds are excellent that this is not the case.
This column is the first of another mini-series addressing the problem of accidental rewards that we humans provide our companion birds. A fundamental rule of behavior is that no animal, human or otherwise, continues a behavior if it isn't reinforced. These rewards are crucial to identify and understand because they are the reason that our birds continue to present behaviors that we do not like. Since our actions are often the reason that a problem is happening, we need to recognize these inadvertent reinforcers and stop them. Otherwise, nothing will change for the better.
So the trick to resolving behavior problems is to analyze the situation to identify the reward, and then change things to produce a better outcome. In this column, I will address this issue generally. The next couple of columns will deal with the specific (and common) problems of excessive screaming and biting.
Many parrot owners make a fundamental mistake with their parrots. They pay attention to their birds when they are misbehaving and ignore them when they are being good. So they are rewarding unwanted behavior with attention, and then they wonder why the bad behavior doesn't go away. Instead, the object is to ignore the behaviors you don't want, and reward the ones you like.
Applied Behavior Analysis (ABA) is a useful approach to behavior modification when you are trying to identify the accidental rewards that are causing an unwanted behavior to continue. Using what they call the "ABCs of Behavior," interactions can be broken down into understandable units.
A = Antecedent – or what happens immediately before the target behavior
B = Behavior – the "problem" behavior, the target of the analysis
C = Consequence – the reinforcer that causes the behavior to continue
Going back to the audience member's complaint, further questioning revealed useful information. It turned out that the parrot was least likely to step onto her hand when she wanted to put it in its cage. So if we fit this scenario into the ABC pattern, we see this:
A = Parrot is asked to step up
B = Parrot steps up
C = Parrot is locked in its cage
Now it is much more obvious as to why the parrot's previously acquiescent behavior had changed. After all, when it stepped up politely, it was locked away. So the consequence of its good behavior was isolation.
Changing this pattern is easy enough. All we need to do is change the consequence to something the parrot enjoys, and it will likely choose to step up again. Of course, it will depend on the parrot as to what it enjoys. Some cuddly types relish a quick snuggle or scritch. Food-motivated birds value a tiny bit of luscious treat. Some birds really enjoy a simple, but enthusiastic, "Good bird!"
So now our ABC is:
A = Parrot is asked to step up
B = Parrot steps up
C = Parrot gets a reward it values
The odds are now increased that the parrot will choose to step up for the owner.
So what do we do about the getting-it-in-the-cage issue? That is also quite simple. Again, using reinforcers that the parrot values (e.g., praise, scritches or a food treat), step the bird into its cage and reward, but leave the cage door open. When the bird steps into the cage and is rewarded, immediately bring the bird out again for some play time. After a few minutes, repeat the training. Continue to do this until the bird is quite happy to enter the cage.
The next step is to close the door momentarily and reward, then open the door and bring the bird out again. Continue this pattern until the bird is quite comfortable going into its cage and having the door shut behind it. (My blue-and-gold macaw, Sam, for instance, is quite pleased to go into her cage, as she has learned that a tasty nut awaits her.)
Timing
The biggest error made with this type of training is faulty timing. If your timing is off, you reward the wrong behavior, so proper timing is crucial. Best rule of thumb is that the reward must come within a couple of seconds. So, if you have to go into the kitchen, open the refrigerator, get a tiny treat and return to give it to the parrot, you may as well wait until next year. There will be no connection made between the behavior and the reward if there isn't good timing. So have the food treats ready prior to starting the lesson.
Food Treat Rewards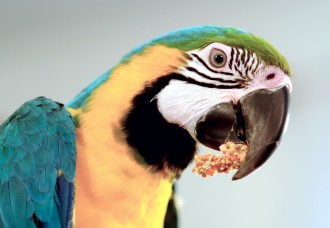 The greatest mistake people make with food treat rewards is offering pieces that are too big. First, it takes too long for the bird to eat it. Second, large food rewards cause the bird to run out of appetite quickly, thereby losing its effectiveness. For example, instead of offering an entire sunflower seed as a reward for a medium-sized bird like an Amazon, cut the (shelled) seed into at least four pieces first.
It pleases us to please our birds, so we often make the blunder of giving them treats that have not been earned. Please remember that such unearned tidbits rapidly lose their value. Save the special treats for training, and offer them at no other time.
My next column addresses avoiding accidental rewards when dealing with excessive noise.