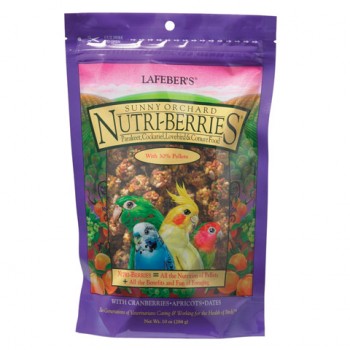 You will now find all of the Lafeber Gourmet Nutri-Berries in new stand-up packaging!
Your favorites — Tropical Fruit, Sunny Orchard, El Paso and Garden Veggie — are easy to recognize in their familiar bright packages that are now made wider at the bottom to make them stand upright.
The new bags are already a hit with our customers, because they make Nutri-Berries easier to store in cupboards or on shelves, less likely to spill, and more convenient all the way around.
As always, the Lafeber packaging is air-tight and resealable to keep the non-GMO Nutri-Berries fresh for your feathered friend.
The nutrition inside of each package stands up for itself! You can always count on Lafeber's Gourmet Nutri-Berries to be the the most nutritious bird food available.
Look for Gourmet Nutri-Berries in their new stand-up bags.
They are BRIGHT, AIR-TIGHT, and UPRIGHT!