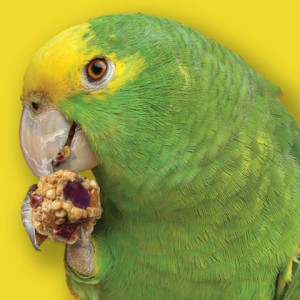 Can a round food be a square meal?
YES! Nutri-Berries fit perfectly in your pet bird's diet with the balanced nutrition essential to good health.  The non-GMO seeds, grains, fruits, and vegetables you find in Nutri-Berries lend to the whole-food goodness and also add lots of tastes and textures for foraging pleasure in every bite.
We don't cut corners with Nutri-Berries!
Can a square food be a well-rounded diet?
YES! Avi-Cakes are squares that make a straight line to complete nutrition with a combination of non-GMO seeds and pellets bound with the great taste of molasses. Avi-Cakes are called a "work and chew" food because your bird has to exercise lots of muscles to pull them apart.
Avi-Cakes are fun — squared!
Can a cylindrical food have an angle of nutrition?
YES! Lafeber Premium Daily Diet Pellets provide complete, non-GMO nutrition for the good health and long life of your bird. They are made in a wide range of sizes with formulas to fit all of your feathered friends.
Lafeber pellets are great from end to end!
YES! Things are in good shape at Lafeber Company!