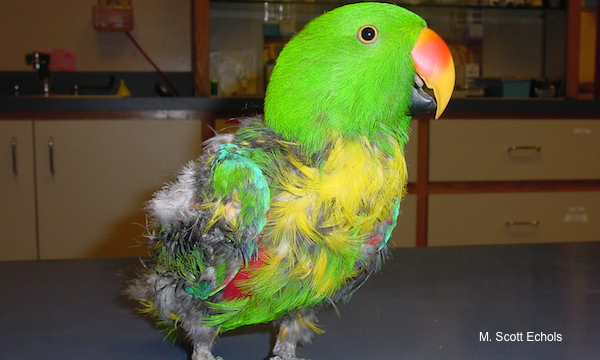 Objectives
Specific skills discussed will include tips on anamnesis and pertinent features of the physical examination. The majority of the lecture will focus on definition of feather damaging behavior, a discussion of the many possible etiologic factors, and management of the condition. The discussion on management will explore environmental modification techniques, occupational therapy, sensory substitution, training, medication, as well as alternative therapies.
Abstract
Feather destructive behavior, also called pterotillomania, is one of the most common and frustrating behavior problems seen in captive psittacine birds. The disorder is characterized by feather removal, feather chewing, or self-inflicted trauma to soft tissue, limited to areas that the bird can reach. Behavioral history-taking should include information about the bird's background, early rearing environment, caregiver expectations, composition of the household, air quality issues, changes in the environment associated with onset of the behavior problem, exposure to chemicals, the cage, toys, and photoperiod, nutrition, and social interactions. [MORE]
About the presenter
Dr. Lynne Seibert received her DVM degree from the University of Tennessee. After 3 years in private practice, she completed Master's and PhD degrees in neuroscience at the University of Georgia leading to board certification with the American College of Veterinary Behaviorists in 2001. She currently teaches veterinary medical students at Tuskegee University and she has taught veterinary behavior courses at six veterinary colleges.She operates a clinical behavior referral service north of Atlanta. Her special interests include avian behavior, compulsive disorders, pharmacology, and helping veterinarians implement behavior programs in general practice.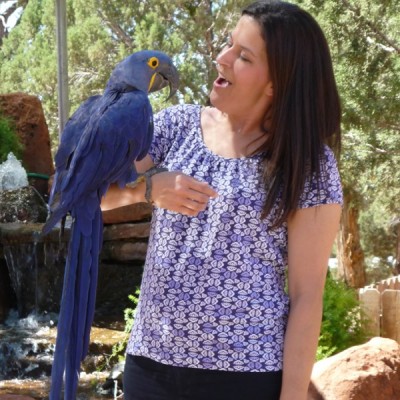 Outline

Download the 1-page presentation outline PDF (39 KB)
Recording
Videos

Slide 2 Head twirl

Slide 3 Preen stereo

Slide 24 Key untie

Slide 40 Allo preen
Post-test
Take the post-test. With a passing grade of 70% or higher, you will receive a continuing education certificate for 1 hour of continuing education credit in jurisdictions that recognize AAVSB R.A.C.E. approval.
Evaluation form
What did you think? Please complete the evaluation form to provide feedback or to make suggestions for future webinar topics.
R.A.C.E. approval
This program was reviewed and approved by the American Association of Veterinary State Boards (AAVSB) Registry of Approved Continuing Education (R.A.C.E.) program for 1 hour of continuing education in jurisdictions that recognize AAVSB R.A.C.E. approval.
Please contact the AAVSB R.A.C.E. program if you have any comments or concerns regarding this program's validity or relevancy to the veterinary profession.
…Feather loss and removal of feathers may be caused by physical pathology, nutritional deficiencies, or behavioral conditions, or a combination of these. Medical and nutritional causes of excessive feather removal or loss must be explored, as well as behavioral, hormonal, and environmental factors.
Wild psittacine birds spend a large portion of their time foraging for food. Ad libitum provision of food for captive birds may allow more time for behavior problems to develop.
Reproductive causes may account for some cases of feather damaging behavior. Since molting often occurs after the breeding season in the natural environment, inability to complete a normal reproductive cycle may result in feather abnormalities.
Feather damaging behavior in birds has been compared to human disorders involving compulsivity and impulsivity. Obsessive-compulsive disorders are characterized by obsessions, intrusive thoughts or images, and compulsions, repetitive behaviors performed in an attempt to prevent or reduce anxiety. Hand washing is an example of a common compulsive behavior in humans. Trichotillomania, or hair pulling, is classified as an impulse control disorder. It is characterized by removal of hair resulting in alopecia and may involve any region of the body where hair grows. Both hair pulling and hand washing may represent pathologic grooming sequences.
Treatment recommendations are specific for each individual bird based on a thorough history and accurate assessment of the contributing factors. Recommendations should include environmental enrichment, nutritional adjustments, reduction of environmental allergens, opportunities for social interactions, and intellectual stimulation. Pharmacotherapy may be necessary in certain cases.
To cite this page:
Seibert L. Feather destructive behavior in psittacine birds. LafeberVet Web site. Available at https://lafeber.com/vet/feather-destructive-behavior-in-psittacine-birds-webinar/