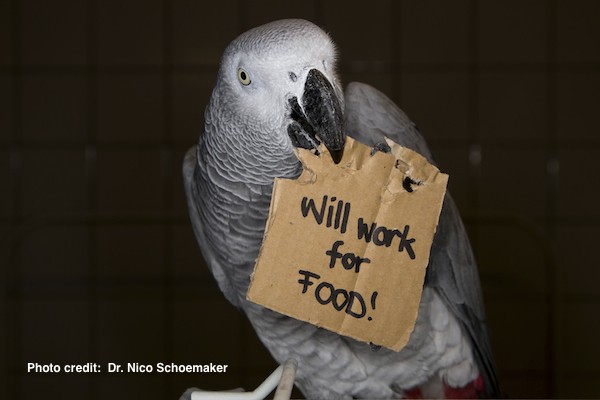 Save the Date
Save the Date for a R.A.C.E.-approved continuing education webinar presented by Yvonne R.A. van Zeeland, DVM, MVR, PhD, DECZM (Avian), DECZM (Small Mammal)

Lecture outline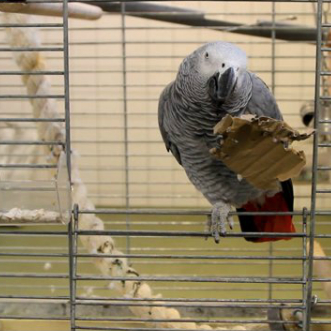 Lecture objectives will include:
Parrots in captivity versus parrots in the wild

Species-typical behaviors of wild parrots
Captive living environments

Environmental enrichment

Types of enrichment
Effects of environmental enrichment on behavior, health, and welfare of captive parrots

Research to identify the behavioral needs of psittacine birds
Abstract
Despite parrots being popular pets, much of the information regarding their nutritional and behavioral needs is still unknown. Unlike dogs and cats, most psittacine species are not domesticated and have therefore likely retained most, if not all, of their wild instincts and behavioral needs. In captivity, however, most parrots have little to no opportunity to perform these species-typical behaviors. This will not only reduce their welfare, but can also result in the onset of abnormal repetitive behaviors, including feather damaging behavior, and oral or locomotor stereotypies.
Provision of environmental enrichment serves an important tool to enable animals to perform their natural, species-typical behaviors and reduce the occurrence of health and/or behavioral problems. Several categories can be distinguished, including social, occupational, physical, sensory and nutritional or foraging enrichment. In recent years, several studies have been performed to study the effects of different types of enrichments on the parrots' behavior and welfare, which revealed their potential to reduce abnormal repetitive behaviors and improve captive parrot welfare. Nevertheless, information regarding the parrots' true behavioral needs is still largely unknown.
Various methods exist to study the importance of different types of enrichments for an animal, of which so-called choice tests are considered the most informative. Of these, preference tests, in which the animal is allowed to choose between two or more environments which differ in only one feature, are probably the best-known. While using such tests it was found that parrots are highly motivated to work to obtain their food (contrafreeloading), thereby indicating that provision of foraging opportunities is essential for the parrots' well-being in captivity. Other studies have focused on the parrots' preferences for specific enrichment features, thereby providing an empirical basis for the development and refinement of enrichments.
Aside from preference tests, so-called motivational tests may be performed. Such tests, also referred to as consumer demand studies, help to address the actual value and importance of a specific enrichment for an animal. In a pilot study regarding parrots' motivation for various types of enrichment, it was found that parrots were highly motivated for social interaction with conspecifics and for space to fly and roam freely, whereas other enrichments were valued differently by the individual parrots. Results of the aforementioned studies help to formulate recommendations regarding the parrot's living environment and further improve their welfare in captivity.
About the presenter
Dr. Yvonne R.A. van Zeeland is an Assistant Professor in the Division of Zoological Medicine at Utrecht University, the Netherlands. Dr. van Zeeland earned her doctorate from Utrecht University in 2004. She completed an internship in companion animal medicine at Utrecht University, followed by a residency in avian medicine. In April 2013 Yvonne became a Diplomate of the European College of Zoological Medicine and a European recognized specialist in avian medicine. Throughout her career, Yvonne has shown a special interest in parrot behavior. She became a Tinley-certified parrot behavior consultant in 2012 and she also researched feather-damaging behavior in grey parrots. [MORE]
Webinar FAQ
Do I need special equipment to view and listen to a webinar?
All you need is a computer (or similar device) with an internet connection. Provided your computer has speakers (can you listen to music?) you will be able to view and listen to the webinar.
What web browsers are recommended?
Recommended browsers include Internet Explorer 8 or greater, Mozilla Firefox 3 or greater, Google Chrome or Safari 4 or later. Adobe® Flash® Player 11.3 or later must be installed.
What if I'd like to view the course on a mobile device?
Apps for viewing the webinar are available for Apple devices and Android devices.
Will I be able to ask questions?
If you attend the live webinar, you will be able to ask questions by typing into a chat box on the webinar screen. The speaker will read out and answer as many of the questions as possible.
What happens if I miss the live webinar?
The webinar will be recorded, and the recorded version will be available for viewing within 3 business days of the live presentation.
Additional questions or concerns?
Please contact LafeberVet at vetinfo@lafebermail.com.
R.A.C.E. approval
This program was reviewed and approved by the American Association of Veterinary State Boards (AAVSB) Registry of Continuing Education (R.A.C.E.) program for 1 hour of continuing education in jurisdictions that recognize AAVSB R.A.C.E. approval.
Please contact AAVSB R.A.C.E. program if you have any comments or concerns regarding this program's validity or relevancy to the veterinary profession.