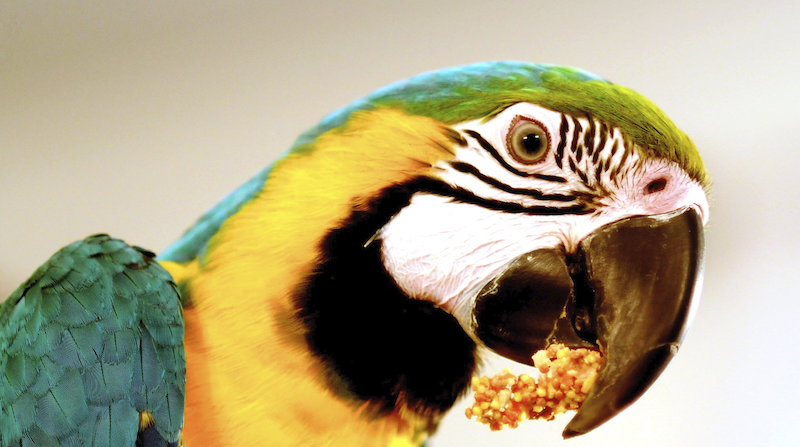 Save the Date
Save the date for a continuing education webinar R.A.C.E.-approved for 1 hour of continuing education that will be presented by Susan Orosz, PhD, DVM, DABVP (Avian Practice), DECZM.

Date:  Sunday, October 27, 2019
Time:  3 pm EST (New York); What time is that in my time zone?

Register today for this free, interactive web-based seminar.


Abstract
Dr. Susan Orosz will present this live, interactive, webinar on the clinical perspectives of avian nutrition. How can veterinary health professionals address the nutritional needs of the companion bird?  This discussion will include the pros and cons of dietary options for the companion bird, from seed-only diets to pellets, extruded diets, and fortified whole seed diets. The presentation will also explore the nutritional history and physical exam findings related to nutritional status, and techniques for successful conversion to a healthy diet. The remainder of the seminar will focus on clinical concerns related to nutrition, including nutritional imbalances, from obesity to hypovitaminosis A, as well as nutritional management of common clinical conditions.  See the outline below.
Strongly recommended
Strongly recommended before attending Dr. Orosz's webinar:

View the on-demand LafeberVet webinar recording Avian Nutrition Basics, RACE-approved for 1 hour of continuing education.
Outline
Nutritional strategies
Nutritional history

Importance as a diagnostic tool
Determine exactly what is fed and in what proportions
Primary caretaker

Physical examination findings

Protein/amino acid deficiencies
Vitamin A deficiency
Vitamin D deficiency

Dietary conversion

Evaluation of the patient beforehand
Recommended food items
Monitoring
Tips & tricks
Cautions
About the presenter
Dr. Susan Orosz is Director of the Bird and Exotic Pet Wellness Center in Toledo, Ohio. Dr. Orosz earned a PhD in neuroanatomy from The University of Cincinnati College of Medicine in 1980 and her DVM from The Ohio State University in 1984. After graduation, Dr. Orosz worked at an exotics practice in San Diego before joining the University of Tennessee College of Veterinary Medicine, where she served as Section Chief for the Avian, Exotic Animal and Wildlife Medicine Service for 14 years. Susan lectures both nationally and internationally on avian and exotic animal medicine topics. She is also a Past President of the Association of Avian Veterinarians and was awarded the 2007 T.J. Lafeber Avian Practitioner of the Year Award. [MORE]
Download and share the press release.
Webinar FAQ
How do I view the live webinar event?
After registering, you will receive a confirmation email via vetinfo@lafeber.com. To access the webinar on October 27 at 3 pm EST, simply select the URL link in the confirmation email.
Do I need special equipment to view and listen to a webinar?
All you need is a computer (or similar device) with an internet connection. Provided your computer has speakers (can you listen to music?) you will be able to view and listen to the webinar.
To enter the webinar "room", you will be prompted to download webinar service software. This software can be downloaded immediately before the webinar or right now to ensure a pleasant viewing experience.
What web browsers are recommended?
Recommended browsers include Internet Explorer 8 or greater, Mozilla Firefox 3 or greater, Google Chrome or Safari 4 or later. Adobe® Flash® Player 11.3 or later must be installed.
What if I'd like to view the course on a mobile device?
Apps for viewing the webinar are available for Apple devices and Android devices.
Will I be able to ask questions?
If you attend the live webinar, you will be able to ask questions by typing into a chat box on the webinar screen. The speaker will read out and answer as many of the questions as possible.

What happens if I miss the live webinar?
The webinar will be recorded, and the recorded version will be available for viewing within 3 business days of the live presentation.
Additional questions or concerns?
Please contact LafeberVet at vetinfo@lafeber.com.
RACE approval
This program 776-38004 is approved by the American Association of Veterinary State Boards (AAVSB) Registry of Continuing Education (R.A.C.E.) to offer a total of 1.00 CE credits to any one veterinarian and/or 1.00 veterinary technician CE credit. This RACE approval is for Category Two: Non-Scientific Clinical using the delivery method of Interactive-Distance/Non-Interactive Distance. This approval is valid in jurisdictions which recognize AAVSB RACE; however, participants are responsible for ascertaining each board's CE requirements. RACE does not "accredit" or "endorse" or "certify" any program or person, nor does RACE approval validate the content of the program.