Objectives
This learning aid is designed to assist the participant in meeting the needs of a Veterinary Emergency and Critical Care Society (VECCS) – certified facility.
As of January 2017, all emergency and critical care facilities certified by the VECCS must have the capacity to receive, evaluate, stabilize, and provide limited, emergency medical support for any small (pet) mammal, avian, or reptilian species which is commonly found in the pet trade, until such time that the patient can be referred to another facility… '[E]valuate' means to look at the patient, obtain a history, and do, at minimum, a visual exam. A 'hands-on' exam can be done within the limits of the patient's and the examiner's safety and comfort level…For the purposes of this requirement, 'stabilize' means to have available in the facility equipment and supplies necessary to provide basic support, such as species-specific housing, warmth, oxygen, if needed, possibly fluid therapy, and some form of pain relief, to include humane euthanasia if no other options are available. —VECCS 2017
Level 1 of this teaching module reviews the basics of exotic animal critical care. To learn more in Level 2, review the key points for each taxonomic group:  birds, exotic companion mammals, and reptiles. Then take a brief quiz that reinforces fundamental principles. Completion of Levels 1 and 2, including the brief quizzes, will take approximately 70 minutes. Delve deeper into the critical care of exotic animal patients in Level 3 by browsing pertinent content on LafeberVet.
One Medicine
The basic principles of emergency care are universal – stabilize the patient, provide fluids, heat as necessary, and oxygen. Once these basic needs have been achieved, then the practitioner can address wound care, nutritional support, and appropriate antimicrobial therapies.
Level 1:  Review the Basics
Although the principles of critical care and supportive care are universal in all species, veterinarians face a unique set of challenges when caring for birds, small mammals, and reptiles.
Prey versus predator species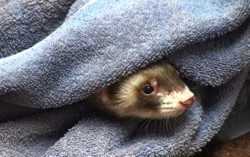 Ferrets are hardy and relatively stoic. Although unique in their own right, ferrets are predator species that approach the world in a manner similar to cats and dogs.
Many exotic animals seen in clinical practice are prey species. Prey species often hide signs of pain and illness until disease is quite advanced as an instinctive response to avoid predation. In the wild, individuals that appear sick or injured are easy prey for predators, and they may even be segregated or attacked by group members.
Provide species-appropriate housing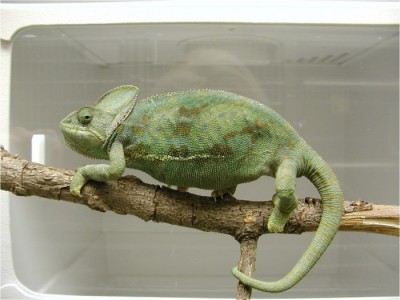 Caging systems must be tailored to meet the specific needs of each patient. No single hospital environment can meet the needs of every exotic animal, however there are requirements that remain constant among exotics. First, the space used to house prey species must be quiet. Select an area away from the sight and sound of predator species, like cats, dogs, and ferrets. Ideally light control should also be on a dimmer. Lowering light levels can calm a nervous prey species or facilitate restraint.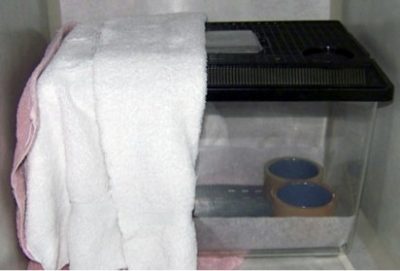 Many exotics will also benefit from some form of visual security or a hiding place, like a cardboard box or hide box. Draping cloth over part of the incubator or taping newspaper over a portion of the cage front can also be helpful. Of course, the need for visual security must be weighed against the need to monitor the patient.
Gather all supplies before diagnostic and therapeutic procedures
Gather all supplies before removing the patient from the cage. This will minimize patient stress by ensuring the animal will be restrained for the minimal amount of time necessary.
Manage concerns related to small body size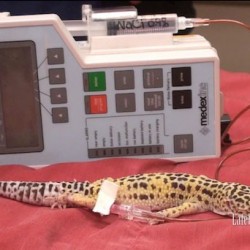 To ensure the safe and accurate delivery of fluids to small patients, use a syringe pump or fluid pump that can accurately deliver fluids down to 0.1 ml per hour. A burette can also be used, but by itself does NOT prevent the delivery of excess fluid volumes.
Small patients on fluids must also be monitored very closely. The signs of overhydration are not unique to exotic animals, but in the tiny, debilitated patient these problems can develop very quickly. Signs of early water excess can include serous nasal discharge, chemosis, and tachypnea. If left unchecked, the patient develops pulmonary edema, subcutaneous edema, and jugular venous distension.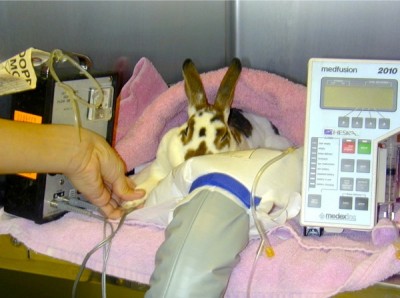 Small patients have a high body surface area and are also more prone to heat loss. Provide supplemental heat as needed, and monitor temperature carefully in exotic companion mammals. Continue to monitor temperature after the small mammal is normothermic, as the small patient can continue to heat up quickly.
Level 2:  Explore Each Taxonomic Group in a Little More Detail
Explore each taxonomic group in a little more detail. Level 2 of LafeberVet's Emergency and Critical Care Teaching Module features a summary page for each taxonomic group, which reviews key points on critical care and supportive care of  birds, exotic companion mammals, and reptiles.
Level 3:  Delve a Little Deeper
Browse pertinent exotic animal content below to delve a little deeper into the critical care and supportive care of exotic animal patients.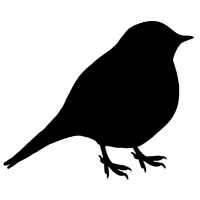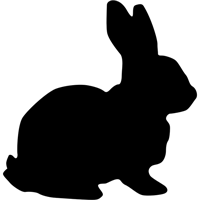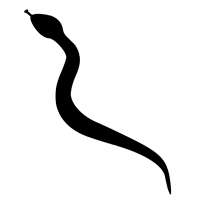 All Taxa
VECCS-certified facilities should [also] accept critically ill or injured wildlife, using appropriate personal safety precautions…